Hillary Clinton Lumbers Shakily Towards The White House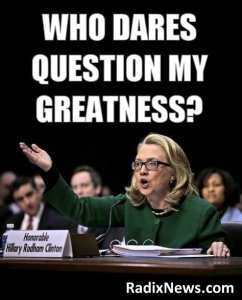 Is Hillary Clinton the inevitable next presidential nominee of the Democratic Party? To hear the former secretary of State's acolytes in the media, it is all but a done deal. But in their sudden sense of vulnerability following last month's elections, Democrats and commentators are having second thoughts.
Washington is abuzz about an apparently tedious performance Mrs. Clinton gave at the local Georgetown University this week.  But it is not just a reputably awful speech that has the town talking.
Clinton has a history of filling university galleries, which may be part of why UCLA didn't complain when she charged them the (so her aides claim) cut-rate fee of $300,000 when she spoke there some months ago.  The other reason would be that a Clinton donor committed to paying the full freight in advance of the invitation.
But she and her husband before her have been reliable draws over the decades at Georgetown, which is, after all, her husband's alma mater. But this week, according to multiple reports, she only half filled the auditorium.  Could Hillary be losing her presidential magic? Prognosticating minds want to know.
To be fair, Mrs. Clinton may have suffered from local overexposure.  She had already appeared on that particular campus twice in the past two years, most recently this October.  There is only so often that busy students are likely to turn out for anyone.  A celebrity's first on-campus visit in a student's college career is a thrilling moment, the second an added treat, the third, well, the celebrity is just short of being any other professor, but one who offers no class credits.
Then, again, Hillary is hardly the nation's most exciting political performer.  She has no humor.  She is utterly lacking in charm. And her speaking! Accomplished speakers develop a cadence, a rhythm to their delivery that carries audiences along.  After all these years, Mrs. Clinton has yet to find her pace.
Think of Ronald Reagan, or Mrs. Clinton's husband Bill, or President Obama, or, despite all the disparaging of them as speech givers, either of the Bushes.  Even if you don't like their positions and arguments, when it comes to tempo and tone, along the way each developed a speaking style almost akin to music – not the same musical form in each case, but still rhythmic and tonal.  The best you can say about Hillary Clinton is that she badly needs music lessons. Badly.
But it isn't just half-empty halls that have her party anxious.  In a national poll taken in late November – the first since the election — Quinnipiac University found Mrs. Clinton running within the margin of error of all potential GOP rivals except Texas senator Ted Cruz.  Her favorable vs. unfavorable rating is a yawn inducing 50-45 percent.  These are not such numbers as presidential dreams are made of.
Still, Democrats know that Hillary has an ace up her sleeve.  In a party whose female activists tend to view themselves as a grievance group, she is a woman. And women, so I am told, make up 58 percent of Democratic primary vote.
There has been a fair amount of lampooning of how the former First Lady harps on her gender in speeches.  Many of those supporting her at this early date talk of nothing else.  My guess is that it is not just that she has no record of serious achievement to point to or that she champions policies that many Americans would find problematic.  In the identity over substance politics of the Democratic Party today, just the prospect of electing the first woman president could give the former first lady, senator and secretary of State her one solid, unique and unanswerable qualification for the presidency.
Let the left wing of the party whine.  Hillary is still the only woman the Democrats have got.
Clark S. Judge is managing director of the White House Writers Group, Inc., and Chairman of the Pacific Research Institute. A version of this article appeared on the Hugh Hewitt web site and is reprinted by permission.