Obama: Leading From Behind or Cowardice?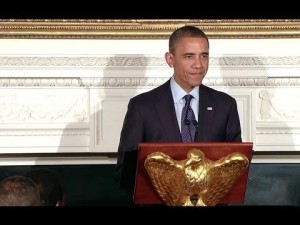 On Sunday, leaders from around the world joined millions of French citizens in a Unity rally, with the noted absence of any prominent American officials. Some consider the presence of the world leaders simply a heavily secured photo-op, however it was the show of support that mattered, not the security measures used to protect them. France has suffered its own 9/11, and comparison between the responses to those two attacks is definitely worthwhile. "Je suis Charlie" has become a battle cry of sorts, and a wake-up call to leaders around the world that have been guided by their own definition of Islamophobia in their dealings with committed Muslim radicals.
The Obama administration used the president's ubiquitous security detail as its pretext for missing the event. (Really, as if Israel's Prime Minister Benjamin Netanyahu — with a minimal security footprint — wasn't a more prominent terror target?) But ignoring the security excuse, the choice to not have a U.S. leader on the ground in France for this rally is far more clear. Mr. Obama started with a strategy of opposing the Bush administration's policies, and once that failed, moved on to support the wrong side in just about every situation that has involved Islamic radicals worldwide. Whether it was backing the Muslim Brotherhood in the wake of the Arab Spring, or the complete failure to protect U.S. interests in Libya resulting in the death of our ambassador, the U.S. public has been witness to a continual parade of foreign policy mistakes.
Language is the latest failure, as Obama administration spokespersons continue to resist calling terrorist acts like the attack on the Charlie Hebdo offices for what they are — Islamic terrorism.
Egyptian President Abdel Fattah al-Sisi made waves internationally due to his January 1st speech indicting radicalism in Islam, though Western leaders have generally fallen on the side of protecting the sensibilities of peaceful Muslims. Conservatives have long warned that giving a pass to Islamic radicals for the sake of non-radical Muslims is a dangerous proposition. Now, there is finally a leader from within the Islamic world that not only agrees with that contention, but also appears to be interested in forcing change within Islam that would ostensibly stem the growth of radicalism within the ranks of its followers.
As for the Obama administration, time will tell exactly how much damage has been done by the failure to show allegiance with leaders in France over this past weekend. If the administration continues to fail to call the problem for what it is — radical Islamic terrorism — it's likely that the diplomatic problems will only be part of the issue. While it's not likely that European powers will completely withdraw military support in actions against ISIS, it will be foolhardy to assume that their involvement has anything to do with loyalty to the U.S. Because it's not certain yet whether or not the terrorists involved in the attack on Charlie Hebdo had any connections with established Islamic terrorists in the Middle East or elsewhere, European involvement in fights in that region should be viewed as an act of self-protection, not loyalty. The real question in the coming months will be whether or not world leaders begin to view U.S. leadership as nothing more than a group of cowardly novices, if they haven't already.
Liz Harrison is a founding director of Vigilant Liberty Radio where she hosts "The Liz Harrison Radio Show" weekdays at noon eastern.