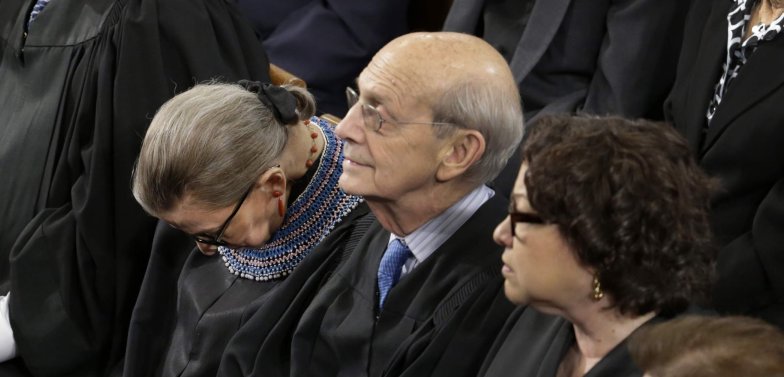 Supreme Court Justice Ruth Bader Ginsburg has made headlines twice in one day. While one situation was simply amusing, the second is causing at least a few people to question her wisdom.
In the first headline of the day, Ginsburg admitted that she "wasn't 100 percent sober" during the State of the Union address. It's doubtful that anyone is going to be upset about her having a little wine with dinner; anyway who doesn't think Mr. Obama's speeches sound better after a few drinks?
The second headline of the day is another matter. Bloomberg Business carried a story on Ginsburg's opinion on gay marriage and ObamaCare. If it wasn't for the fact that both of those issues are on the docket for the highest court, perhaps that wouldn't be so bad. However, there is a gay marriage case that SCOTUS is scheduled to rule on by June, and an ObamaCare case that is scheduled to be heard by the Court in March.
Gay marriage supporters have been talking up the possibility that SCOTUS will take their side in the upcoming ruling, and Ginsburg's comments in her latest interview could be added to their side.
Bloomberg reported "the 81-year-old justice discussed the public's increasing acceptance of gays against the backdrop of resistance by Alabama officials to a federal court order that took effect Monday and made it the 37th gay-marriage state. With the high court set to rule on the issue by June, she said it 'would not take a large adjustment' for Americans should the justices say that gay marriage is a constitutional right.
"'The change in people's attitudes on that issue has been enormous,' Ginsburg said. 'In recent years, people have said, "This is the way I am." And others looked around, and we discovered it's our next-door neighbor — we're very fond of them. Or it's our child's best friend, or even our child. I think that as more and more people came out and said that "this is who I am," the rest of us recognized that they are one of us.'"
The problem is that Ginsburg is getting dangerously close to saying too much about issues surrounding cases that are currently under consideration by the Court. While it might be tempting to make a case for Ginsburg to step down, that would only allow Obama to appoint another Justice before his term ends – something conservatives definitely do not want to see.
Perhaps the best advice for conservative commentators is to let this quietly slide by, and hope that there are no more incidents of this kind. If nothing else, take a bit of enjoyment out of seeing Ginsburg blame Justice Anthony Kennedy for bringing wine to dinner before the State of the Union.
Liz Harrison is a founding director of Vigilant Liberty Radio where she hosts "The Liz Harrison Radio Show" weekdays at noon eastern.