ISIS torches 45 Iraqis as Obama's 'violent extremist' summit begins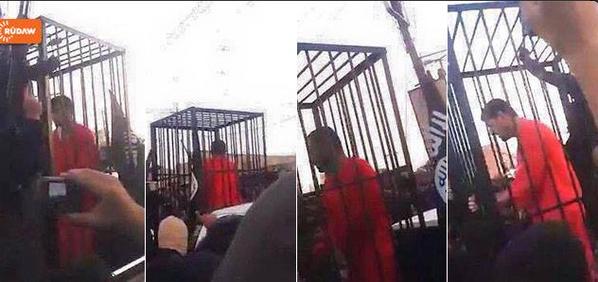 In a breaking news story from Britain's BBC News on Tuesday, an Iraqi police chief is quoted as saying terrorists from the Islamic State of Iraq and Syria (ISIS) executed up to 45 people — many of whom were police officers — in the Iraq town of Al-Baghdadi. Ironically, the alleged execution occurred as the President Barack Obama kicked-off the international summit on the battle against "violent extremism," in Washington, D.C.
The summit was planned in reaction to the Muslim terrorist attacks in the Middle East and Europe, as well as and the jihadists' brutally-graphic execution videos. But some are calling the taxpayer-funded confab just another "dog and pony show." Detractors main problem with the Obama confab is the fact he and his minions repeatedly refuse to call acts committed, in the name of Allah, Islamic terrorism. Those detractors include a number of police and counterterrorism experts, as well as military veterans, some of whom fought as part of elite units.
The international event is being peddled as the "Summit on Countering Violent Extremism" and its goal is to highlight the efforts of the alleged U.S. coalition's efforts to prevent violent extremism and to stop their recruiters from "radicalizing, recruiting or inspiring individuals or groups in the United States and abroad to commit acts of violence," said the White House in a statement.
"[President Obama] and his spokespeople continue to exhaust every euphemism that can be found in order to avoid really identifying the enemy fighters. He [Obama] calls the violent extremists, but hasn't he used the term 'extremists' to describe Tea Party groups and Republicans? This has reinforced the belief by about 30 percent of Americans that the President of the United States is a 'closet' Muslim," said former police counterterrorism unit supervisor, Sgt. Joel Levinson.
Obama has said that the extremist activities have rampantly increased as the size of ISIS continues to grow. The rise in Islamist attacks and mass executions is not occurring in Middle Eastern and African nations but also in Western countries most recently France and Denmark.
While Obama and his national security team — which is led, according to some sources, by National Security Advisor Susan Rice and Obama confidante Valerie Jarrett — like to refer to Obama as the leader of the anti-terrorism alliance, observers believe that the American government has no realistic security policy that seeks to destroy terrorist groups. In addition, numerous polls show that most Americans disapprove of Obama's handling Islamic-based terrorism.
"I knew we were in trouble when the President called the Fort Hood shootings by a Islamist army major [Nidal Hassan] a case of 'workplace violence' instead of an Islamic terrorist attack. The killer — who shot 13 people to death — yelled 'Allah Akbar!' during his rampage, and the victims' Commander in Chief called it workplace violence," said former U.S. Marine intelligence operative Michael Snipes, who went on to become a police officer.
Proof of public distrust or disappoint — as well as that of some Republican lawmakers and U.S. media outlets — was the intense criticism of Obama and his administration for not sending a top leader to the Paris unity rally after 12 people were killed in a deadly radical Islamist attack on the French magazine Charlie Hebdo. White House spokespeople tripped over one another trying to come up with a good excuse for Obama's obvious disregard for the terrorist bloodbath.
Jim Kouri, CPP, the fifth Vice President and Public Information Officer of the National Association of Chiefs of Police, has served on the National Drug Task Force and trained police and security officers throughout the country. This article originally appeared in the Examiner and is reprinted by permission of the author.