Barack Obama is no friend of law enforcement, says top lawman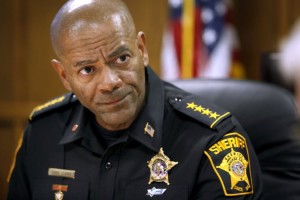 President Barack Obama on Tuesday hosted a meeting at the White House with some of the nation's top law enforcement executives that appeared to be more of a photo opportunity with all flash but no substance, claim some police chiefs and sheriffs. However, of all the police leaders who surrounded Obama in order to make him look like a pro-police Commander in Chief the most noticeably absent was one of the lawmen celebrated by millions of Americans: Milwaukee, Wisconsin, Sheriff David Clarke, who bluntly said "[President Obama] is no friend of law enforcement."
Sheriff Clarke, who happened to be in the nation's capital despite not being invited to the White House confab with Obama, stated during an appearance Tuesday on the Fox News Channel that he would have attended if he were invited and would have asked Obama legitimate, tough questions rather than the fluff the President was fed by selected police commanders who worked for liberal-left officeholders, say admirers of Clarke.
What makes Sheriff Clarke even more credible is that fact that he's a Democrat. As such, he said that his advise to both Obama and Attorney General Holder would be for them to "stay away from the race-baiting, stay away from the race-hustling, stop stoking racial discord," while appearing on FNC's "Your World with Neil Cavuto."
Sheriff David Clarke's career includes work as a Milwaukee patrol officer, homicide detective, lieutenant of the detectives, captain of the intelligence division. In 2002, he was elected Sheriff of Milwaukee County. He graduated summa cum laude from Concordia University Wisconsin and from the FBI National Academy in Quantico, Virginia.
Clarke also reiterated his claim that "[President Barack] Obama has not been a friend of the American police officer" and that police had been thrown under the bus. He also said that had he been invited along with the other law enforcement commanding officers he "would have asked him some very pointed questions about how [Obama] handled the controversy regarding the arrest of [Cambridge professor] Dr. Henry Louis Gates."
He would have also asked about Obama's nominee for the head of Civil Rights Division, an activist attorney who represented convicted cop-killer Mumia Abu Jamal during his appeals process. Besides the issue of law enforcement and policing in the nation's cities, Clarke said he would have brought us related issues such as Obama's record on the economy and jobs for blacks. He also takes exception to Obama and the Democrats opposing school voucher programs that would allow blacks to send their children to private schools.
Clarke noted, "The American police officer, as an institution and profession, is one of the few things left that's right about America. So, I'm going to continue to resist this notion, this false notion, Neil, that police officers, even white police officers, use an inordinate amount of force on young black males. The data's not there, the research doesn't suggest it. It's a false narrative and it needs to be slapped down."
Jim Kouri, CPP, the fifth Vice President and Public Information Officer of the National Association of Chiefs of Police, has served on the National Drug Task Force and trained police and security officers throughout the country. This article originally appeared in the Examiner and is reprinted by permission of the author.