Is the America Obama Does Not Love Dead Anyway?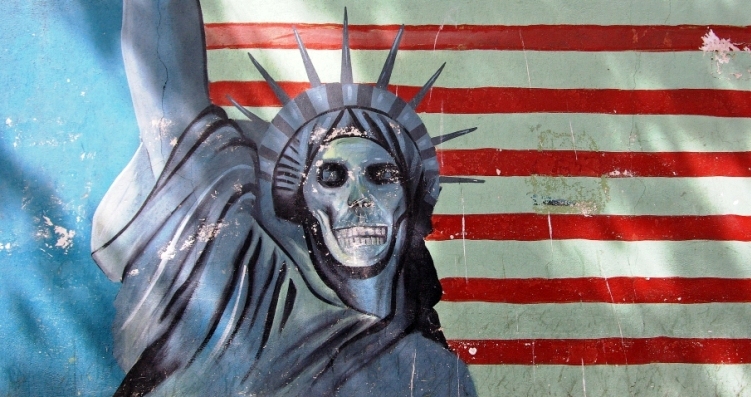 Sometimes it pays off to just wait for the reactions when someone says something controversial, and that's definitely the case when it comes to Rudy Giuliani's comments about Obama not loving America. He clarified his comments in a Wall Street Journal Op-Ed, but that probably just added more fuel to the fire, and sadly so. The fact is that Giuliani is right about how Americans work, particularly when he pointed out that our leaders really should be part cheerleaders. It is an issue of morale, and the exceptionalism that Obama is so quick to dismiss is something that has made America what it is.
Perhaps the real reason why Giuliani has been met with so much derision on all sides for making these comments is that he was pointing out something that has essentially died anyway. Matt Taibbi made an analogy in Rolling Stone that sort of illustrates this, but is still laughable:
"U Nas Lusche — roughly, Ours is Better or It's Better Here — was the unofficial slogan of the pining-for-the-old-days crowd in post-communist Russia.
"These folks weren't communists in any real ideological sense. They were mainly just people who had grown lazily comfortable with certain romantically goofy elements of the Soviet way of life and were (somewhat understandably) reluctant to give them up.
"If you've spent the last 30 years sitting on splintered park benches with your buddies after work, drinking rancid keg beer out of a jam jar along with some salted vobla fish and some mushy 'Doctor's' kielbasa, well, you'll be damned if you're going to worship at the more expensive altar of a warm Coca-Cola and a Snickers."
Perhaps Taibbi really does believe that we are moving forward into a better age, and maybe he doesn't see the irony of his own comparison. If the political left in this country gets what it really wants, the new face of America will not be very different from communist Russia.
Mark Krikorian at National Review probably did get much closer to what is really happening in America today, and caused Giuliani to say what he did: "A post-American may like his country just fine, but that feeling is akin to the attitude one might have for a suburb you might live in — it's a nice enough place, but if you got a better job or found a more suitable house, you'd leave without too much anguish. Love of country, on the other hand, is an emotion, and post-Americans (and post-nationals in general) simply do not experience that emotion."
A recent Rasmussen Poll bears that out as well, with results showing that a majority of Americans think they love America, but only about 1 in 3 think Obama doesn't. Krikorian's theory implies that the definition of "love of nation" has changed significantly for Americans, to a more tepid level than it has been in the past.
However, it is important to remember one thing – Obama, like most other married men, shows a part of himself through his wife. It has been a few years since Michelle Obama said it, but we do need to remember that she did say that she had not been proud of America as an adult until 2008, as she watched so many Americans step up to say with their votes that they agreed with her and her husband about where our nation should be heading. It was a campaign selling "Hope and Change," and if nothing else, they definitely delivered on the "Change" part.
Liz Harrison is a founding director of Vigilant Liberty Radio where she hosts "The Liz Harrison Radio Show" weekdays at noon eastern.