First it was blame Bush, now it is blame Netanyahu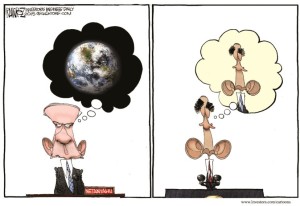 We are used to hearing members of the Obama administration blame George W. Bush for everything under the sun. Now, it's blame Netanyahu.
Recently Secretary of State John Kerry blamed Israel's Prime Minister Benjamin Netanyahu for pushing the United States into launching the 2003 invasion with Iraq. Really John?
As a result of Kerry's comments, the Iranian news media and that of other news outlets jumped onto the anti-Netanyahu bandwagon, accusing him of being the Operation Iraqi Freedom mastermind.
"The prime minister as you recall was profoundly forward-leaning and outspoken about the importance of invading Iraq under George W. Bush. And we all know what happened with that decision," Mr. Kerry said. "Israel is safer today with the added time we have given and the stoppage of the advances in the Iranian nuclear program than they were before we got that agreement – which, by the way, the prime minister opposed," Kerry testified. "He was wrong."
Last Tuesday, President Barack Obama's National Security Adviser Susan "Benghazi" Rice said the decision to have Netanyahu address the U.S. Congress has "injected a degree of partisanship, which is not only unfortunate, I think it's destructive of the fabric of the relationship." She had sharply criticized the Israeli leader during an interview with the left-leaning PBS.
"It's almost sinful what these so-called American leaders are doing. Kerry and Rice, in my opinion at least, are two of the biggest political hacks in Washington who appear to always have a problem with the truth," said former U.S. Marine and police training officer Collin Traymore. "John Kerry should be the last person to bring up the U.S.-led invasion of Saddam Hussein's Iraq," Traymore added.
It's a matter of public record that the a number of political leaders who later pointed fingers at President George W. Bush after the invasion, were the ones who voted for the invasion including then-Democratic Senator John Kerry. During his unsuccessful run for President in 2004, Kerry often found himself at a loss of words to describe his comments and actions since it was proven he saw the same intelligence reports as everyone involved in the planning of the attack on Iraq.
During a House Foreign Affairs Committee hearing last Wednesday, Kerry blasted Netanyahu over his upcoming speech about the dangers posed by a nuclear Iran. "The prime minister, as you will recall, was profoundly forward-leaning and outspoken about the importance of invading Iraq under George W. Bush, and we all know what happened with that decision," Kerry said.
Just prior to Kerry's committee testimony, Chairman Ed Royce, R-California, said to Kerry, "Regarding Iran, all of us want to see you get to a meaningful, lasting agreement. But the Committee, as you know, has real concerns with the direction of these talks. I'm hearing less about dismantlement, and more about the permanence of Iran's nuclear program."
Secretary Kerry, who has since been blasted by politicians (even in his own party) and the media, told the panel of lawmakers that the world is safer than it's ever been. To which Royce simply commented on the current crises facing the U.S. and its allies: "Challenges seem to grow by the day. Iran and North Korea are pursuing nuclear weapons; Russia is gobbling up neighboring Ukraine; beheadings, crucifixions and immolation by ISIS; cartoonists and Jewish shoppers targeted and killed on Paris streets. Indeed, some days it feels as if the world is coming off its axis."
In the past, Kerry was overhead complaining about Netanyahu and the Israelis. Unaware of a nearby microphone, he was heard accusing Israel of practicing apartheid. Meanwhile, in her book, that people didn't read in droves, Hillary Clinton complained of Israel's occupation of Palestinian territory. There were also negatiive comments reportedly made by members of the White House staff calling Netanyahu a "chicken-s_ _ _."
Chicken-s_ _ _? Hardly. "Netanyahu was an officer with the Israeli special forces while these people calling him names worked for a community organizer from Chicago," said former U.S. Marine intelligence operative and police detective Michael Snopes, Jr. "Is it any wonder why U.S. foreign policy is in a shambles?"
Jim Kouri, CPP, the fifth Vice President and Public Information Officer of the National Association of Chiefs of Police, has served on the National Drug Task Force and trained police and security officers throughout the country. This article originally appeared in the Examiner and is reprinted by permission of the author.