Hillary Blows Her Email Presser Big Time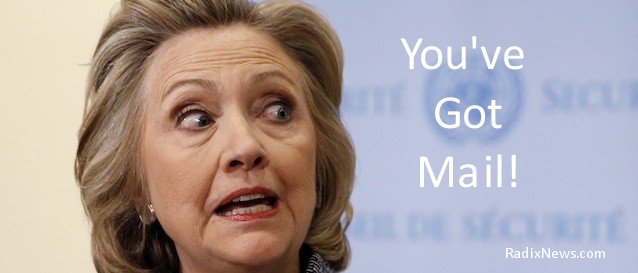 "Here's my personal email address. Since my company keeps track of my work email, it's better if you write to me there."
Those are two simple sentences that thousands, if not millions, of Americans have said or written to others many times over in one form or another. Usually it's an innocent situation, where people simply don't want their personal business on work radar. Regardless, it's something that governmental and non-governmental workers alike deal with on a daily basis.
Hillary Clinton obviously is still of the opinion that she is an exception to that rule, among many others.
During a 21-minute "press encounter" on Tuesday, Hillary spun her story on the private email server that she used while she was Secretary of State, and has brought up more questions than answers. Hillary looked hunted, dazed. Her answers were pinched and nonsensical. Even CNN thought it was odd.
Timing is everything, especially when it comes to when the domain for this email server was purchased. Hillary is now claiming that the system was acquired for her husband's communications, but that's not particularly believable since the domain was purchased right after her nomination for Secretary of State. As well, Bill Clinton's spokesman said that the former president has only used email twice — twice! — in his life. So as hard as it may be to believe, one or both of the Clintons must be telling a fib.
Hillary said her basement server was secure, but could it really have been more secure than the State Department's system? Anyway some are now remembering that what started all of this was the fact that a hacker found a "personal" email conversation between Hillary and Sidney Blumenthal on Benghazi. Hillary says it's OK in any case because she did not send any classified information over the system. In other news, the State Department is delaying release of the emails Hillary did turn over because they are redacting classified information. Hmmm.
Couple that with Hillary's limp excuse of not wanting to carry around two devices to manage more than one email account, and tech savvy people should have been hearing alarm bells going off. Then again, there is video proof that is probably a lie anyway.
Even if one buys the desire to stick with one device, the bottom line is that even the most technologically impaired person out there can visit a cellular service center to get assistance in setting up multiple email accounts on one phone. Since Hillary was paying for someone to set up an entire email server, it's ridiculous to think that getting her phone to retrieve mail for multiple accounts would have been above that company's capabilities.
If every department in the Obama administration hadn't been turned into a partisan political machine, we wouldn't be having this discussion. Either Hillary wouldn't have gotten away with using one email account for everything in the first place, or there would be a Department of Justice investigation right now. Her server would have been seized, and all of her emails would have been sorted by investigators, not her. If the Democrats had any pride or ethics, there also wouldn't be any debate over whether or not Hillary should end up in the White House. She would have been dropped from consideration.
Now, the public is left with questions, like whether or not Hillary considered any communications with foreign leaders "personal." While the media is slowly waking up, it's doubtful we'll see anyone asking Hillary that question, not that it would matter. There's no reason to think she'd tell the truth.
Liz Harrison is a founding director of Vigilant Liberty Radio where she hosts "The Liz Harrison Radio Show" weekdays at noon eastern.