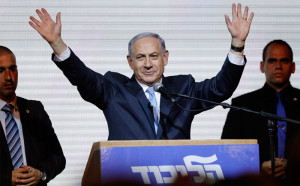 Bibi: Knock knock
Obama: Who's There?
Bibi: Prime Minister Netanya
Obama: Prime Minister Netanya-who?
Bibi: That's right, and don't you forget it, sucker!
Benjamin Netanyahu's Likud party managed to pull out a commanding victory in Israel, and the election post-mortems have hit the web. While there are some that have called it predictable , others begrudgingly admit that Netanyahu's 11th hour campaign strategy was masterful, if at least a little distasteful. The last minute claims that Arabs were coming out to vote in droves, while accurate, did not sit well with some Israelis.
As for Obama, there is an object lesson in attempting to export political philosophies to regions that have extremely different issues to address. While the cost of living and housing issues in Israel are arguably something that leftists can offer concrete solutions to – albeit expensive ones – the fact is that "bread and butter" issues do not play like they do in the U.S. in the Middle East.
Beyond playing on the fears of Israelis about Arabs getting a larger voice in government, Netanyahu arguably mixed the housing and security issues when he addressed his nation from a settlement on the outskirts of Jerusalem, stating that he had no intention of allowing a two-state solution to the Palestinian problem as long as he held office. While it didn't seem to be mentioned publicly in the press, it's not difficult to draw a line between that moment, and the thought that there are more Israeli settlements in Netanyahu's plan for the future, which would at least help to resolve the housing cost issue.
The racism accusations that were hurled in the waning hours of the election also may dissipate thanks to Obama himself. While it's not likely that there will be any real consequences for the administration here, a Senate probe into the Washington-based, White House tied OneVoice Movement, which sought to unseat Netanyahu, may offer Israelis at least some proof of the prime minister's claims about foreign money being funneled in to assist the center-left Zionist Union. The American political left may also learn a lesson or two about selling their social programs on foreign soil.
While social and economic issues did help the Zionist Union greatly in this election over the past couple months, in the end Israelis voted for self-preservation. The cost of living doesn't matter if one isn't breathing. Iran, terrorism on their borders, and the Palestinian question are not only the primary issues driving relations between Israel and the U.S., but are also issues that can trump pocketbook issues for Israelis, as we've seen in this election. Even though the people of Israel are tired of hearing about these problems and would probably prefer to focus on purely domestic issues, the cold hard fact remains that survival of their nation as a whole will always take priority.
Now Obama needs to decide if he is going to address the issues of rampant terrorism on the borders of Israel, the ascendance of Iran in the region including their involvement in the fight against ISIS as well as their nuclear aspirations, and the issue of extricating Hamas and other Islamists from the Palestinian government. While the latter won't guarantee that Netanyahu will back down from his assertion that he will not permit a two-state solution to the problem, it's unlikely anything short of that will entice him to negotiate at all.
American conservatives have been pointing out from the beginning that Obama is not competent on the world stage, and now they've been given yet another bit of proof of that. Netanyahu just schooled Obama on how to be a real political leader, and how strength can defuse leftist manipulation of the masses. Hopefully the Republican field of 2016 candidates are taking notes.
Liz Harrison is a founding director of Vigilant Liberty Radio where she hosts "The Liz Harrison Radio Show" weekdays at noon eastern.