ISIS Kills Scores in Tunisia: Not Just the "JV Team" Any More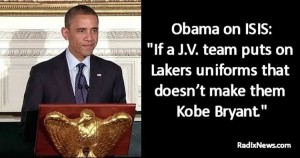 A number of suspected Islamist gunmen began indiscriminately firing on patrons inside the National Bardo Museum in Tunis on Wednesday morning, according to news outlets such as Fox News. Tunisian police say that at least 59 people were killed, including a number of foreign tourists, and dozens were wounded. A security officer, who was part of a rescue operation, was also killed. Tunisia has been targeted by Islamic extremists in recent years, with some attacks linked to the Islamic State of Iraq and Syria.
Despite President Barack Obama and his administration for months pushing a politically-motivated narrative that the Islamic State of Iraq and Syria (ISIS) terrorist network is on the decline and being pushed back, the Obama White House appears to be back-peddling from such statements and are now expressing fears that ISIS's influence is going global, according to a news story published on Tuesday in the China Daily.
While many were surprised to hear the Director of Central Intelligence John Brennan verbalize his concerns over the radical Muslim group's control of much of northern Iraq, his statements on television news shows appear to be the administration's backtracking from Obama's comments late last year about the Islamic State of Iraq and Syria not being Islamic but merely a large gang of murderous thugs. He is also frequently quote for his statements denigrating ISIS as the "JV team" (Junior Varsity) thereby calling them amateurs.
Brennan told news anchors and reporters that the ISIS threat in essence has "snowballed" with upwards of 20,000 foreign fighters from a number of nations joining the intense jihad. Their acts have been said to be as heinous as that committed by the Arabs and African members of radical Islam. Brennan also warned that the group poses a threat not only to Middle Eastern nations as well as North African countries but to a wider area including the Gaza Strip, as well as to the United States and its allies.
An example that many terrorism analysts point to is the Nigerian Muslim group Boko Haram which had announced in early March that it had pledged allegiance to ISIS in an audio recording. The group originally posed only a threat to Nigeria but has already displaced millions of refugees in Africa. They have bombed Christian churches and invaded school campuses, kidnapped women and children to use as sex slaves, and slaughtered entire Nigerian villages. They recently began using kidnapped girls as young as 10-years-old as suicide bombers.
While ISIS's diabolical brutality is known worldwide, the group continues to dust-off ancient methods of torture or execution, such as crucifixion, whereby victims' lungs eventually collapse in an agonizing death that sometimes takes several days. ISIS allegedly killed children because they dared to watch television shows or sports events
And, of course, there are the frequent beheadings of numerous foreign victims, including two American journalists, that ISIS and other Muslim terrorist groups post on Internet social media web sites. The group shocked the world with its video production of an execution of a captured Jordanian Air Force pilot. The ISIS executioners set the man on fire and played the video of him burning and screaming in agony for the world to see.
"These incidents coupled with the ability of ISIS fighters to stand up to modern armies and survive repeated bombings make them much more than just a terrorist group that Obama believed could be handled by law enforcement and the criminal justice system. They are becoming more like Hezbollah, Iran's proxy army, as far as numbers and military equipment," said former Middle East police training advisor George Lahane. "This is by no means a JV team." he added.
Jim Kouri, CPP, the fifth Vice President and Public Information Officer of the National Association of Chiefs of Police, has served on the National Drug Task Force and trained police and security officers throughout the country. This article originally appeared in the Examiner and is reprinted by permission of the author.