Obama's deserter Bergdahl and the GITMO fiasco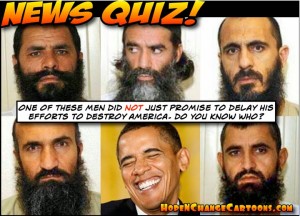 Six soldiers died to try to bring the deserter Bowe Bergdahl back. Then some of the worst jihadists were freed in exchange for his release.
The core reason is that Obama wants to close down the Guantanamo Detention Facility ("GITMO") at any cost, but as he had criticized the Bush Administration for its assistance which three days to find a solution for the numerous jihadists captured in Afghanistan and elsewhere, the truth is that after more than five years, Obama still has no better solution.
So, naively, his team of ignorant, arrogant and incompetent people, which includes himself, thought why not empty GITMO it by releasing the imprisoned jihadists rather than trying them….  Like in fishing, "catch and release"….   Most of the released GITMO terrorists have returned to fighting the West, and the majority has been involved in the murdering of Coalition Troops.
What should one call that?  Another "Catastrophic Obama Policy Failure"?  Or worse….  It really is criminal.  And Bergdahl should be made to pay for his desertion, having caused colleagues to be killed seeking to take him back from his terrorist captors.
Meanwhile in Afghanistan, 28-year-old Farkhunda was wrongly accused of burning the Koran and beaten to death in an act of violence that has shamed the country.  It is strange to think that Kabul and Tehran were two of the most liberal and modern cities in the Middle East/Central Asia 40 years ago, were women studied and were encouraged to engage in business and policies.   Since then, the Islamists have turned back the clock, unfortunately assisted by ignorant Western countries not understanding the hidden forces they were playing with, when the US betrayed the Shah of Iran and engaged the Mudjahadin to fight the communists.
Then we walked away and declared victory…., total nonsense.
We, the West, owe it to the women of Afghanistan and Iran not to forget them, to keep on supporting them as we also know that they are our key allies to fight jihadism locally, thereby denying the jihadists their new recruits.
In other news, see this important article by Jeff Gerth, Private Emails Reveal Ex-Clinton Aide's Secret Spy Network.
How will Hillary escape trouble or worse this time? In the end, it will be about Benghazi. I wonder how Gen. Grange managed to become involved in this scandal? Bizarre.
Jan Henrik Jebsen is the founder and Chairman of the Gamma Applied Visions Group, a Swiss holding company based on the outskirts of Geneva that owns and operates companies in the defense & security, anti-terrorism, medical devices, civil protection, marketing/communication and energy sectors.