Hillary Clinton Reaping the Whirlwind in Benghazi Email Probe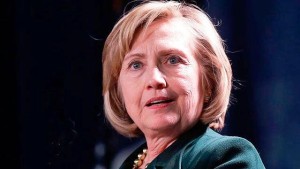 Former Secretary of State Hillary Clinton, the news media's heir apparent to the U.S. presidency admitted that all of the emails on her unauthorized private server have been permanently deleted. Her attorney, David Kendell claims the server had been wiped clean before turning over documents to the special committee investigating Benghazi. And Clinton's army of attack dogs, including James Carville, Lanny Davis and attorney Kendell, are predicting the investigation of Clinton and her shenanigans will go nowhere, according to Sunday television news shows.
Although Clinton surrendered upwards of 900 pages of her emails to the House Select Committee on Benghazi, the lawmakers had requested many more emails. A visibly disgusted Benghazi Committee Chairman Trey Gowdy said on Fox News Friday evening that not only did Clinton fail to submit new documents, she actually deleted her remaining emails stored on her personal server, which is a violation of State Department protocol.
"This is the first and only hard-hitting case to address the growing email scandal. What Hillary Clinton, her husband, and their foundation have done is nothing new. It is simply part of a criminal enterprise which dates back at least 10 years, all designed to enrich themselves personally at the expense of the American people and our nation. It's time, however, that they finally be held legally accountable," said former DOJ attorney Larry Klayman.
The arguably cunning politician kept all her official correspondence as Secretary of State, as well as her personal emails, on that server, which is highly suspect since she had disciplined one of her underlings for doing the same thing. There were also allegations that she used an unauthorized cell phone to discuss confidential government business.
"After seeking and receiving a two week extension from the Committee, Secretary Clinton failed to provide a single new document to the subpoena issued by the Committee and refused to provide her private server to the Inspector General for the State Department or any other independent arbiter for analysis," Gowdy said.
But Clinton and Obama defender Rep. Elijah Cummings of Maryland, the ranking Democrat on the Benghazi select committee, said Kendall's letter is proof of "what we all knew: that Secretary Clinton already produced her official records to the State Department, that she did not keep her personal emails and that the Select Committee has already obtained her emails relating to the attacks in Benghazi."
Kendall said in a statement, "Thus, there are no hdr22@clintonemail.com e-mails from [Hillary] Clinton's tenure as Secretary of State on the server for any review, even if such review were appropriate or legally authorized." Kendall is best known as President Bill Clinton's attorney during the Monica Lewinsky case in which Clinton was found in contempt of court and his law license was suspended.
"Are we supposed to take the word of a serial-liar [Clinton] and her politically-connected mouthpiece?" said former police detective Samuel Gonzales. "If I'm investigating a bank robbery and my top suspect says he didn't do it and his lawyer presents that as proof of his client's innocence, do I drop the case and send the suspect home? Hell, no! Guilty people lie and Hillary is a proven fibber."
Besides having to deal with stonewalling by Obama administration officials and the water-carriers in the news media who routinely aid Obama and Clinton, Gowdy and the Republicans must deal with Democrats on the committee who are almost constantly denigrating the GOP-led probe. "The Democrats want Hillary as president," said former police detective and corporate security director Charles Menninger. "The news media want Hillary as president. And Gowdy must contend with an enormous amount of resistance to his truth-seeking probe. It's so similar to a prosecutor seeking the conviction of a Mafia godfather only Hillary Clinton is more powerful and more protected than any La Cosa Nostra kingpin."
According to top watchdog group Freedom Watch's chief attorney, Larry Klayman, "Legal challenges facing Hillary Clinton are getting hotter, starting with a case on appeal I will argue on Thursday [April 2] before the U.S. Court of Appeals for the District of Columbia Circuit. What is coming soon may be more significant than all of the whirlwinds around Hillary that have come before."
"I will argue to the appeals court that the U.S. Department of State withheld documents that I asked for under the Freedom of Information Act (FOIA)," said Klayman, a former prosecutor with the U.S. Justice Department.  "A big reason why the documents were withheld was because they were hidden on Hillary Clinton's private email account in her Chappaqua residence. I will ask the appeals court to send the case back to the U.S. District Court and order that the computer file server be taken into custody by a neutral forensic computer expert under the direction of the Court, to reconstruct and release responsive email records."
Jim Kouri, CPP, the fifth Vice President and Public Information Officer of the National Association of Chiefs of Police, has served on the National Drug Task Force and trained police and security officers throughout the country. This article originally appeared in the Examiner and is reprinted by permission of the author.