NSA: Turn Over Hillary Clinton Documents Now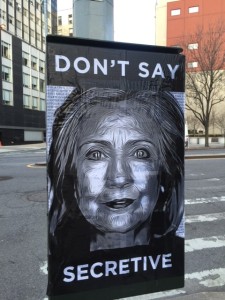 On the Friday, two days before her expected announcement that she is officially running for President, a public-interest attorney for a government watchdog group threw down his gauntlet and notified the news media that he will not allow presidential hopeful Hillary Rodham Clinton and her minions to get away with wiping clean her computer server in a suspected obstruction of justice case.
During Sunday's Fox and Friends Weekend show, the Clinton family's mouthpiece, attorney for dictators Lanny Davis, downplayed the actions of Hillary Clinton in her effort to avoid any culpability for the deaths of four Americans during a terrorist attack on the U.S. diplomatic mission in Benghazi, Libya on Sept. 11, 2012.
"Mr. Davis has become a kind of front man for the dark side, willing to take on some of the world's least noble companies and causes," claims a New York Times article. "Since leaving the White House, Mr. Davis has built a client list that now includes coup supporters in Honduras, a dictator in Equatorial Guinea, for-profit colleges accused of exploiting students, and a company that dominates the manufacture of additives for infant formula."
Meanwhile one of the capital's most active lawyers, Larry Klayman, is requesting the National Security Agency (NSA) and the Central Intelligence Agency (CIA) for the copies of Clinton's emails they allegedly, surreptitiously intercepted. "It's a known fact that the U.S. intelligence agencies under orders from the Obama White House has played loose-and-fancy-free when it comes to electronic eavesdropping. To believe that the NSA or CIA would skip monitoring [Hillary] Clinton's emails and cell phone activity would cause a person to accept the absurdity of such a situation. They've got her emails and cell phone calls or transcripts," said former law enforcement officer Stephen Kablonsky, an expert in electronic surveillance.
Several requests have previously been filed by Larry Klayman, the founder of Freedom Watch, and he has a number of notable cases against the U.S. government over Clinton's alleged leaking of classified information about Israel war plans, her family's foundation that's suspected of accepting questionable donations, and the crash of a U.S. military helicopter that killed dozens of American servicemen including members of Seal Team Six.
While Mrs. Clinton may get away with her excuses and lies with the water-carriers in the news media, Klayman in essence is saying "not so fast." His group's investigations require examination of the contents of the emails on Clinton's unauthorized server she claimed was operating in her home while she held the secretary of state post.
Politico and other news sources have reported that Clinton wiped clean the private server containing subpoenaed and requested emails. Rep. Trey Gowdy, R-South Carolina, who chairs the Select Committee on Benghazi said in a statement, "While it is not clear precisely when Secretary Clinton decided to permanently delete all emails from her server, it appears she made the decision after [Oct. 28, 2014], when the Department of State for the first time asked the secretary to return her public records to the department."
In a letter provided to Gowdy's committee, Hillary's lawyer, David Kendall, claimed that Clinton would not be turning over the server to a third-party for review and that the emails no longer exist on the private server located in her New York suburban home. "There is no basis to support the proposed third-party review of the server that hosted the hdr22@clintonemail.com account," Kendall wrote. "To avoid prolonging a discussion that would be academic, I have confirmed with the secretary's IT support that no emails…..for the time period [Jan. 21, 2009 through Feb. 1, 2013] reside on the server or on any back-up systems associated with the server.
"And I suppose the American people are supposed to rely on the word of a known deceiver like Hillary Clinton and a bought-and-paid-for attorney [David Kendell] who worked for her husband during Monicagate?" asks former police detective Iris Aquino, who investigated financial crimes in the private sector.
In a new letter to the NSA, which mirrors a letter he sent to the CIA, Klayman said, "It has been publicly revealed and officially confirmed that the NSA routinely and continuously intercepts and captures all or most electronic messages … sent and received by persons inside the United States and also worldwide. The U.S. government argues that this indiscriminate interception of emails on a massive scale is necessary, lawful and justified on grounds that the massive database collected and stored can later be searched, as needed. As a result, the NSA admits that it has copies of all emails sent or received by Hillary Clinton during her tenure as Secretary of State."
Klayman's letter noted that some of the Hillary's emails may contain evidence of bribery and the sale of government services. "Freedom Watch hereby requests that the Department of State produce all documents including correspondents, memoranda, documents, reports, records, statements, audits, lists of names, applications, diskettes, letters, expense logs and receipts, calendar or diary logs, facsimile logs, telephone records call sheets, tape recordings, video/movie recordings, notes, examination, opinions, folders, files, books, manuals, pamphlets, forms, drawings, charts, photographs, electronic mail, and other documents," Klayman noted.
Documents requested include emails to and from hdr22@clintonemail.com address as well as other addresses that are used on the Clinton server such as that of her assistant Huma Abedin. Klayman then used the NSA's own statement on its website to make his point about transparency: "The goal of the FOIA office at NSA is to release as much information as possible, consistent with the need to protect classified and sensitive information under the exemption provisions of the law."
Jim Kouri, CPP, the fifth Vice President and Public Information Officer of the National Association of Chiefs of Police, has served on the National Drug Task Force and trained police and security officers throughout the country. This article originally appeared in the Examiner and is reprinted by permission of the author.