Hillary Stonewalls Evidence Search in Clinton Racketeering Case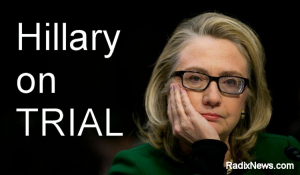 The public-interest, non-partisan law group that is suing Bill and Hillary Clinton and their Clinton Foundation, listed as a charity, under the federal Racketeer Influenced and Corrupt Organizations Act urged a federal court in Florida — that has already set the trial date for January 2016 — to take physical custody of Hillary Clinton's private email server forthwith before anymore "loss of emails" can occur. The fear is that since the State Department claims it possesses no emails or documents regarding Iranian waivers by her in exchange for donations to her foundation, they may remain on the allegedly "scrubbed" server in Clinton's home, according to the release of the court document and a news story on Thursday.
In a supplement titled, "Plaintiff's Supplement of newly discovered information in support of defendant Hillary Clinton's computer email file server," attorney Larry Klayman of Freedom Watch asserts that new relevant information exists that will assist his organization in making its case.
Klayman's supplement was attached to copies of a Washington Times report that the Clintons' suspicious charity had allegedly "set up a fundraising arm in Sweden that collected $26 million in donations at the same time that country was lobbying Hillary Rodham Clinton's State Department to forgo sanctions that threatened its thriving business with Iran."
Another news story submitted by Klayman, this one from the Miami Herald, reported banks were paying huge fees to Bill Clinton for speeches at a delicate time. The June 2 news story states: "Ten of the world's biggest financial institutions – including UBS, Bank of America, JP Morgan Chase, Citigroup and Goldman Sachs – have hired Bill Clinton numerous times since 2004 to speak for fees totaling more than $6.4 million. Hillary Clinton also has accepted speaking fees from at least one bank. And along with an 11th bank, the French giant BNP Paribas, the financial goliaths also donated as much as $24.9 million to the Clinton Foundation – the family's global charity set up to tackle causes from the AIDS epidemic in Africa to climate change."
"Many of the speeches and donations were made at times when the host banks were under Justice Department scrutiny. … All told, the same 11 banks have paid more than $81 billion – yes, that's with a B – over the last six years to resolve federal investigations into alleged corruption," the Herald reporter stated.
The RICO case by Klayman and his group accuses the Clintons of scheming "to reap hundreds of millions of dollars personally and for their foundation by selling government access and influence."The server needs to the obtained, Klayman said, because Hillary Clinton used it in place of a required government system for all her emails as secretary of state, and it likely would contain documents pertinent to the allegations, Klayman said.
While Hillary Clinton has said the drive was wiped clean, Klayman told the federal court that there are processes to recover documents. "The gravamen [essence] of the RICO enterprise consists largely of the two major predicate acts as pled in plaintiff's amended complaint including defendant Hillary Clinton selling waivers to companies doing business in Iran while secretary of state in exchange for donations for The Clinton Foundation and large speaking fees to her husband and later herself," the motion states.
"It is these documents concerning the criminal enterprise which are likely to remain on Hillary Clinton's personal servers," Klayman wrote. "In addition, documents concerning another major predicate act involve Hillary Clinton's release of classified information concerning Israeli war plans." He explained the details were released and were "designed to thwart an Israeli preemptive strike to damage or destroy Iran's nuclear weapons capability by revealing Israeli strategic plans to forward base military operations."
"This is why the court must take custody of the defendants' email hard drives to preserve this material evidence," Klayman wrote. "Defendants, in particular Hillary Clinton, destroyed emails which plaintiff had requested under the Freedom of Information Act, concerning her sale of waivers as secretary of state to do business with the Islamic Republic of Iran and her participation principally in the criminal release of classified government information involving American and Israeli cyber-warfare to destroy or severely cripple Iranian atomic centrifuges and also the release to New York Times reporter David Sanger of classified Israeli war plans to wage a preemptive air attack to eliminate Iranian nuclear facilities," he said.
Jim Kouri, CPP, the fifth Vice President and Public Information Officer of the National Association of Chiefs of Police, has served on the National Drug Task Force and trained police and security officers throughout the country. This article originally appeared in the Examiner and is reprinted by permission of the author.