Hillary Clinton Rally Resets Anti-Cop Sentiment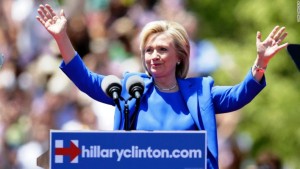 Hillary Clinton has said the "pattern" of black deaths at the hands of police has become "unmistakable and undeniable." Will this become one of her major campaign themes?
The residents of New York City gathered on Saturday to see and hear the Democratic presidential hopeful reset her campaign on the city's Roosevelt Island on Saturday. Clinton's campaign is trying to reverse her sagging poll numbers in light of a number of scandals and allegations of wrongdoing. Many believe that she chose New York City because it's a bastion of progressivism and its mayor, Bill DeBlasio, is as anti-police as Clinton.
Clinton's thoughts on law enforcement are deliberate and not off-the-cuff. She has often claimed that the solution to America's criminal justice "crisis" is to address the distrust between black communities and the police departments that are supposed to protect them. "Today smart policing in communities that builds relationships, partnerships, and trust makes more sense than ever," Clinton said in the past. "And it shouldn't be limited just to officers on the beat. It's an ethic that should extend throughout our criminal justice system. To prosecutors and parole officers. To judges and lawmakers."
According to several police officers, Clinton is a typical Democrat who doesn't wish to discuss black crime rates, the breakdown of the family unit, the lack of opportunities in poor neighborhoods thanks to liberal-left programs designed to look charitable but keep blacks and other minorities on the liberal plantation. "Without the impoverished, the angry and the hopeless, the Democrats would never win an election. So they keep them impoverished and angry and give them false hope. And to really get their goat, the left creates the straw man racist cop to keep them on that liberal plantation," said former NYPD police detective Samuel Vega.
The rally also was the first time that her husband, former president Bill Clinton, and daughter, Chelsea, appeared at one of her campaign events. Clinton's choice of location for the rally, Roosevelt Island, was chosen simply because it is named after President Franklin Delano Roosevelt, the progressive who created the New Deal social programs during the Great Depression. Mrs. Clinton also unleashed what's sure to be the theme of her campaign when she said, "Everyday Americans need a champion." But a translation of that could be: "I want the vote of the little people who I can easily rule," former police counterterrorism analyst Laurence Lefferts quipped.
Present with Mrs. Clinton was her top advisor on police and crime issues, Maya Harris, younger sister of California's decidedly left-wing attorney general. Ms. Harris was appointed as one of three senior policy advisers and the one-time private-practice lawyer attorney is working on criminal justice issues, particularly policing. Her influence was evident in a Clinton speech in the spring in which she denounced the tough-on-crime policies of President Bill Clinton.
Harris was against Clinton's anti-crime stances and fought them in the 1990's while working at the ACLU. She continued to fight against what she believes is oppressive policing in minority neighborhoods with the Oakland-based group PolicyLink. Recently she was hired by the far-left Center for American Progress in Washington, and has added Muslims to her list of those she believes are being mistreated by police.
"Recently, in a keynote speech given at the David N. Dinkins Leadership and Public Policy Forum at Columbia University in New York City, Mrs. Clinton — a woman who balks at requests for her to address issues such as Benghazi, uranium sales to Russia, the Clinton charity scam or 30,000 missing e-mails –preached to the choir that "now is the time to address the racial patterns exhibited by America's police," noted Jeannie DeAngelis at The American Thinker. "Hillary, who shouted, 'What difference at this point does it make?' when referring to four dead Americans in Benghazi, shared that '[a]s a citizen, a human being, my heart breaks' for the young black men killed at the hands of law enforcement," DeAngelis wrote.
During her Roosevelt Island speech, Clinton attempted to make it sound as if her time as Secretary of State was a treasure-trove of success: "I've stood up to adversaries like Putin and reinforced allies like Israel. I was in the Situation Room on the day we got bin Laden." While it may sound like a successful diplomatic career, most of her statement lacked veracity.
"In fact, during her time as Secretary of State, Mrs. Clinton screwed up quite a bit, starting with her so-called Russian re-set, her work with members of the Muslim Brotherhood in Egypt, the fiasco that occurred in Libya, and complaining about Israel in her book that flopped," said former police advisor in the Middle East, George Reardon. "Her time at the State Department is what caused some of the international problems we now face. Now she wants to be in full control as President," he added.
Jim Kouri, CPP, the fifth Vice President and Public Information Officer of the National Association of Chiefs of Police, has served on the National Drug Task Force and trained police and security officers throughout the country. This article originally appeared in the Examiner and is reprinted by permission of the author.