Trump Attacks Reveal Democrat 2016 Campaign Strategy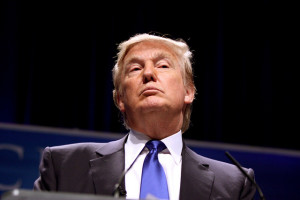 Donald Trump is feeling the heat, even if he would like to make everyone think he's not. Trump is the current target for Democrat venom, and his only "sin" was making the radical suggestion that people coming into the U.S. illegally might be criminals.
Now it is time for a little course – call it "Democrat Campaign Strategy 101." Instead of actually engaging in a meaningful discussion about immigration, the left has opted to simply call Trump a racist.
Perhaps he could have worded his statement a little better, and maybe skipped the word "rapists," but the fact is that he was speaking the truth. Even the people on the farthest point of the left-wing have been pointing out the atrocities committed against women and girls during their trip north from Central America. It apparently is alright to talk about rapists crossing the border when you're talking about the tragic fact that young girls were given birth control or needed post-rape abortions – paid for by American tax dollars, of course. It is acceptable for Democrats to talk about that, but if you're running for office on the GOP ticket, apparently you should expect to be called racist.
So, we are getting a taste of what 2016 will look like. We should not expect substance, and anyone in the GOP field should be prepared to leap into damage control mode if they dare to say anything contrary to the Democrat agenda. This is not a new tactic, but has been extremely effective over the years, primarily because it plays on the emotions of the people. No one wants to be known for supporting racists, or any other hateful category. However, it has been difficult to turn this strategy back on Democrats.
In this case, the left is claiming Trump is racist for pointing out some things even the left-leaning media had been reporting about, albeit unwillingly after conservative media sources made it impossible for them ignore it anymore. The better response probably would have been to simply say that, of course. It's hard to restrain oneself from having an emotional response to a personal attack, but that will be crucial for anyone on the right for the foreseeable future.
That also means that residing in the conservative echo chamber will not work. It will be necessary to know what the left is doing by reading and watching their reports and commentaries. It's one thing to cry hypocrisy without proof. Winning will require showing exactly why they are hypocrites, by pointing out their own words. Now, it's time to thank Trump for drawing fire from the left so early. Next step is to prepare for the next round.