Panicky Dems Try to Justify Fatal Sanctuary Policy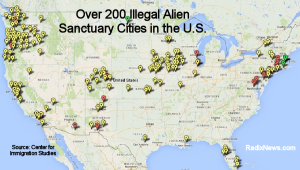 Liberal-left Democrats in the U.S. Congress, in a state of panic, are pushing back on law enforcement and political critics by stating on Thursday with straight faces that San Francisco's sanctuary city policy is not the cause of an illegal alien killing a young woman along the city's waterfront.
Kathryn Steinle, an American citizen, was murdered by Juan Francisco Lopez-Sanchez, a criminal alien who was deported and re-entered the country illegally at least five times. Republican lawmakers have said the 32-year-old Steinle would most probably still be alive without the sanctuary laws, which blocks cooperation between local authorities and federal officials in immigration enforcement.
Democrats are fighting back including presidential hopeful Hillary Clinton, who was caught lying when she said she opposed sanctuary city policies despite a videotape of her in 2007 saying how she wholeheartedly supported cities protecting illegal aliens from federal immigration law enforcement officers.
Leading Democrats, knowing they got caught with their pants down on this incident, are starting to take the offensive by saying that sanctuary policies are being unfairly blamed by Republicans and numerous law enforcement commanders and officers. "I don't believe having a sanctuary designation stops us from following the due course of the law to arrest or detain or to deport an individual who doesn't have a right to be in the country. So I don't believe we should be trying to ascribe blame based on a designation as a sanctuary city," said Rep. Xavier Becerra, D-California, the chairman of the leftist House Democratic Caucus,.
Steinle's vicious murder by a criminal alien last week has revealed the existence of sanctuary cities to many Americans who were unaware of the policy being observed by numerous U.S. jurisdictions. "Sure, I blame the politicians who put their political agenda ahead of protecting the American people. But I also blame the news media who have failed to honestly explain to the people what a sanctuary city policy entails," said former city police detective James Keriouk, who has worked in a so-called sanctuary city.
"All of a sudden, people like [Hillary] Clinton and Rep. Nancy Pelosi say they never supported sanctuary laws. Those who admit they always supported that ludicrous policy continue to push the canard that such policies make communities safer by fostering trust between local law enforcement officers and illegal aliens who might otherwise not cooperate for fear of being deported," said Keriouk, who now works as a corporate security manager.
Another former big city cop, Iris Aquino, said she believes that sanctuary cities encourage criminal activity by enabling criminal aliens — especially gangs such as MS-13 and the Mexican Mafia –"to operate with something pretty close to impunity."
California's Democrat Sen. Barbara Boxer posted a statement saying that she wants clarity from fellow Democrat, California's far-left Gov. Jerry Brown, about whether local laws were followed before urging reforms.
House Minority Leader Nancy Pelosi, D-California, meanwhile, is suggesting the error surrounding Lopez-Sanchez's release occurred even before he was in the custody of San Francisco police. "It's an ongoing investigation, and we're trying to get all the facts on it, but the question I have, I keep asking is: When this gentleman was released from the Bureau of Prisons on a previous occasion he went right to ICE, and this time they did something different. And we can't seem to get an explanation as to why," Pelosi stated Wednesday.
"Notice how Pelosi talked about Tea Party activists, conservatives and American patriots. She once called Border Patrol and Immigration Enforcement agents un-American. But Lopez-Sanchez, a vicious killer, she calls a 'gentleman,'" said Keriouk.
Jim Kouri, CPP, the fifth Vice President and Public Information Officer of the National Association of Chiefs of Police, has served on the National Drug Task Force and trained police and security officers throughout the country. This article originally appeared in the Examiner and is reprinted by permission of the author.