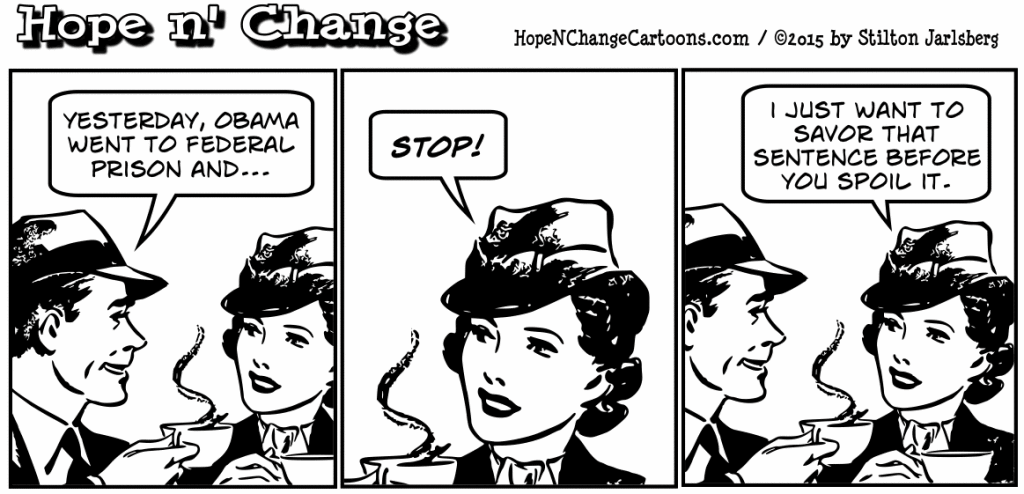 On Thursday, Barack Obama made a historic visit to the El Reno (Spanish for "Big Janet") prison in Oklahoma as a followup to his recent speech to the National Association for the Advancement of Colored People, in which he told the assembled colored people that he was going to make bold new efforts to reform the prison system so that it would work better for, well, colored people.
"In too many places, black boys and black men, and Latino boys and Latino men, experience being treated different under the law," said the president.  And "while the people in our prisons have made some mistakes – and sometimes big mistakes – they are also Americans." (Believe it or not, this statement actually got a standing ovation.)
Of course, the prisoners being held by Iran are also Americans but they're not black. Nor did they make the same drug-related "mistakes" that Mr. Obama enthusiastically made in his youth.  So, in the president's words to soon-to-be-audited newsman Major Garrett, "screw 'em."
In his speech, the president remarkably described criminal behavior as being normal for black and brown males. "What is normal is teenagers doing stupid things," said Mr. Choom. "What is normal is young people who make mistakes." But locking them up? "It's not normal."
Besides opening the cell doors a lot sooner and devoting a lot more money to education and support of sufficiently colored incarcerees, the president also wants to make sure that the prisoners will regain their right to vote.
Because apparently, in the president's view, what America needs most right now is the wisdom and guidance of more anti-social, assuredly-Democrat voters who are prone to doing stupid things and making big mistakes.
Prison Reform: A Holistic Approach