Bernie Sanders Speech Hijacked by Black Radicals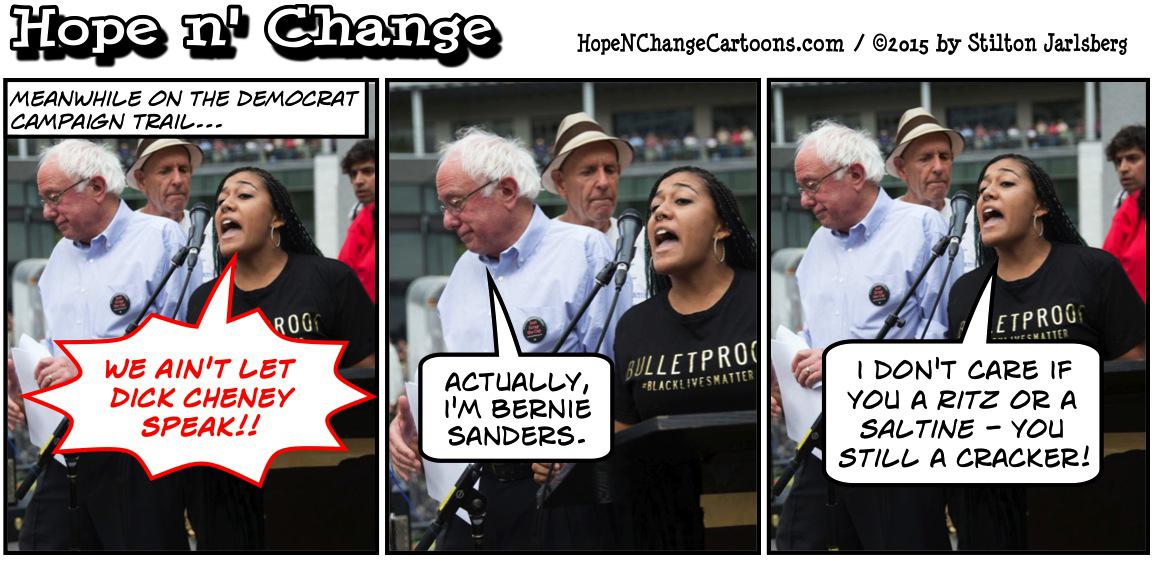 In what is quite possibly the most delightful news story Hope n' Change has read in years, Socialist presidential candidate Bernie "Share the wealth" Sanders had to involuntarily share (and eventually forfeit) the stage with idiotic protesters who commandeered his microphone.
Before we dive into the actual events – which are so delicious that we don't have to make up anything – let's all take a deep relaxing breath so we can truly savor each delightful detail of this hilarious fustercluck. Ready?
It all began in Seattle, the very Mecca of Liberalism, where Bernie Sanders was scheduled to speak to (in the words of the Huffington Post) a "massive" rally of dozens of liberals, staged by a group called the Social Security Works Coalition. The event was a celebration of entitlement services,complete with a tacky cardboard birthday cake – presumably in commemoration of the many years that people have been getting taxpayer-funded cake.
Sanders took to the microphone and drew cheers when he thanked Seattle "for being one one of the most progressive cities in the state!" Which turned out to be his last word on that or any other subject because the microphone was quickly snatched out of his hands by protesters from Black Lives Matter.
Activist (we'd never use the word "extremist") Mara Johnson then accused the alleged crowd of covering themselves in "white supremacist liberalism" and demanded four and a half agonizing minutes of silence to mark the sad one-year anniversary of violent cigar thief Michael Brown becoming a speed bump in Ferguson, Missouri.
The crowd, albeit annoyed and whining, actually did exactly what Johnson told them to do because white liberals would rather burst into flames than challenge a black person, even one who's disrupting a public event. Which is why, following the period of silence, Johnson launched into a seemingly endless tirade against racism and other perceived injustices.
Eventually, showing the strength and resolve which he would no doubt bring to the Oval Office, Sanders simply slinked away from the event without saying another word.
The event's organizers were disappointed but, being Seattle liberals, had praise for the "courage" of the Black Lives Matter protesters.
Frankly, Hope n' Change thinks that the activists (who no doubt showed up on a bus funded by the Clinton Family Foundation) should have set their sights a bit higher and grabbed a microphone from Barack Obama to protest this horribly unfair and racist nation.
Unfortunately, that wasn't an option – because the president is in Martha's Vineyard kicking off his multi-million dollar #BlackVacationsMatter campaign.