Feds Uncover Worse Hillary Email Problems Than Expected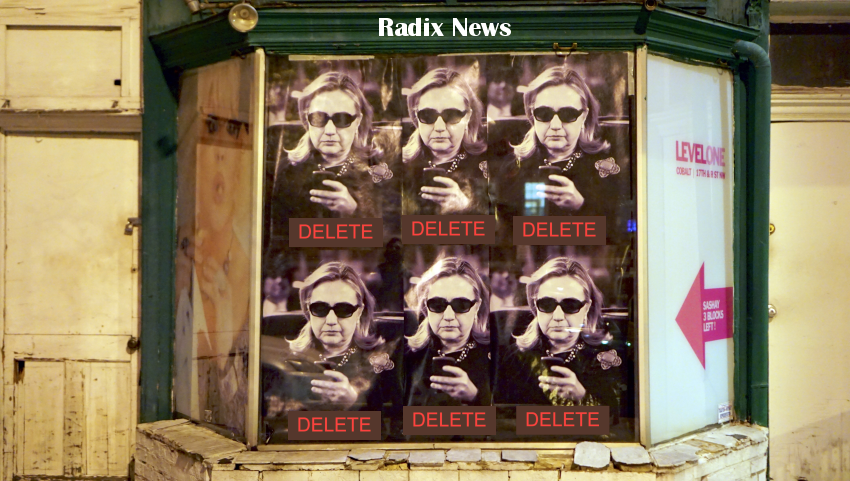 On Tuesday, the Intelligence Community inspector general delivered to the U.S. Congress an updated report regarding emails that were provided by former Secretary of State Hillary Clinton after her personal analysis of the content on her private email server. The report was given to a number of top level lawmakers including the chairman of the Senate Judiciary Committee, Sen. Charles "Chuck" Grassley, R-Iowa.
The updated inspector general's report stated, according to Grassley, that two of the four emails that were previously classified as being "above Secret" were actually Top Secret/SCI level which is a higher classification with a limited number of people authorized to access it. According to the inspector general, the other two emails, which intelligence community officials said were classified by the State Department at the time they were sent, are being reviewed by the State Department to determine what the current appropriate level of classification should be.
It also calls into question statements made by Democratic Party defenders of Clinton and left-wing pundits that claims the documents were classified after being seen by the inspectors general and were not considered classified when Clinton and her aides Huma Abedin and Cheryl Mills originally saw them.
Sen. Grassley and other Republicans have been criticized by Democrats and the Obama administration as being overly vocal about needing more details about the classified emails found on Clinton's private email server and a thumb drive in the possession of her attorney, David "MonicaGate" Kendall. Becoming impatient with what he called the Democrats stonewalling and misinformation, Grassley specifically asked the Federal Bureau of Investigation and State Department to explain the measures each agency was taking to retrieve the classified emails and protect the classified information contained in them.
In his statement, Grassley wrote, "I appreciate the Intelligence Community Inspector General providing more information in response to the questions that many members of Congress and the public have regarding the classified emails that were on former Secretary of State Clinton's private server and on a thumb drive with her private attorney [David Kendall]. This information revealed by the inspector general makes it even more important that the FBI and the State Department secure these documents. To date, the two agencies most critical to securing this information have failed to assure the American people that they are taking the necessary steps to protect America's national security interests."
But some security, law enforcement and military professionals believe that they will witness a series of shenanigans before they will actually witness a full and comprehensive investigation conducted. For example, Scott Taylor, president of Special Operations Education Fund (OPSEC), said that even before any investigation is launched, his group OPSEC formally sent a request to Secretary of State John Kerry "to immediately suspend any and all security clearances presently held by former Secretary of State Hillary Clinton; her former Chief of Staff, Cheryl Mills; her former Deputy Chief of Staff, Jake Sullivan and her advisor Huma Abedin until final adjudication of any violations of national security regulations or laws."
He said that believes that based on the report that the two independent inspectors general, General Steve Linick at U. S. Department of State and General Charles McCullough at the Office of the Director of National Intelligence, have separately established that classified information has been mishandled and that the scope and nature of the attendant circumstances are serious, that security clearances, which appear to be given out like parking permits these days, should be revoked from Clinton and all of her minions.
"It is obvious that the four individuals we have identified engaged in a pattern of activities that clearly violated numerous State Department directives and Title 18 USC," said Taylor, a former U.S. Navy SEAL. Taylor's list of suspected violations by Clinton and/or her aides includes, "Unlawful removal and storage of classified information "without authority and with the intent to retain such documents or materials at an unauthorized location."
Taylor said, "Administrative suspension in these circumstances is entirely consistent with established security policies, procedures and practices. We note previous administrative security actions undertaken with regard to General Petraeus, Ambassador to Kenya Scott Gration, Foreign Service Officer Peter Van Buren, Ambassador to Israel Martin Indyk and former National Security Advisor Sandy Berger, among others." Berger in particular worked for Hillary Clinton's husband former President Bill Clinton. Berger was caught 'pilfering"classified documents from the National Archives and then destroying them, during the 9/11 Commission hearings.
"The American people must be assured that the Departments of State and Justice and the relevant Congressional oversight committees are committed to ensuring that the laws and policies governing handling of classified materials are efficiently and consistently enforced to protect the national security of this country and its citizens. Hence, we call on Secretary Kerry to take immediately the first and essential step in fulfilling that obligation," Taylor said.
According to Taylor, OPSEC is focused on protecting U.S. Special Operations Forces and national intelligence assets from political exploitation, misguided policies, and intentional misuse of classified information, all of which expose them and their families to greater risk and reduce their ability to keep Americans safe.
Jim Kouri, CPP, the fifth Vice President and Public Information Officer of the National Association of Chiefs of Police, has served on the National Drug Task Force and trained police and security officers throughout the country. This article originally appeared in the Examiner and is reprinted by permission of the author.