Top U.S. Military Officers Say Reject Obama's Dangerous Iran Deal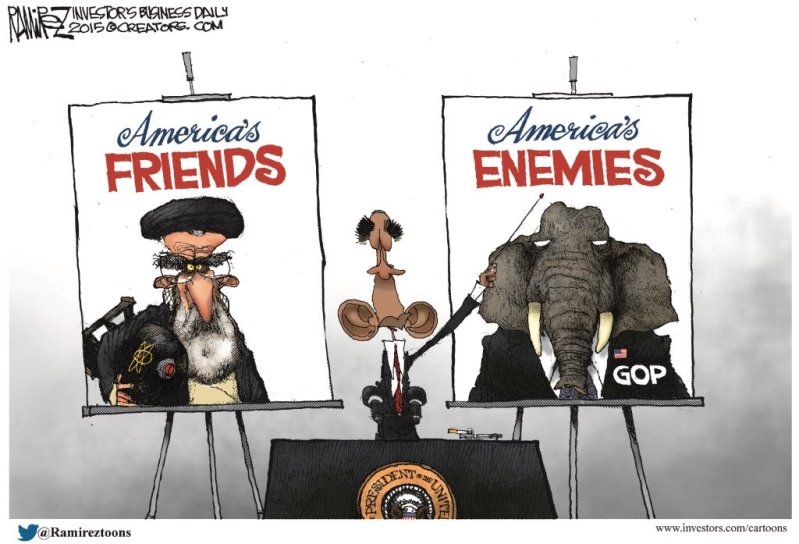 President Barack Obama calling the Americans opposed to his questionable nuclear deal with the world's biggest sponsor of terrorism "crazies" this week did little to silence the growing opposition to his and Secretary of State John Kerry's obsession with signing the Iranian weapons pact. In fact, one day later, according to news stories on Thursday, nearly 200 retired generals and admirals penned an open letter to both houses of the Congress urging U.S. lawmakers to reject the Iran nuclear deal.
The retired military brass wrote their letter to inform the American people and their political representatives in both the Democratic and Republican Parties that Obama and Kerry blessed agreement actually create a more dangerous, which will add violence and terrorism to the already tumultuous the Middle East. The military veterans say they believe that the pact will lead to new threats to Americans, American interests and allies such as Israel, Jordan, and United Arab Emirates.
The generals' and admirals' letter to Republican and Democratic leaders in the House and Senate is admittedly their response to a letter sent last week that was signed by 36 retired senior military officers who supported the administration's nuclear deal.
"Unlike President Obama, who routinely shows little if any respect for his fellow Americans, the military brass were respectful and composed in their criticism of the deal of the century for the Iranian Islamists. The very idea that we can negotiate with a people who execute gays by hanging them from construction cranes and arbitrarily imprisons those the government says are spies or traitors, such as an American journalist," said former U.S. Marine intelligence operative and NYPD detective, Michael Snopes.
The group of former high-ranking military officials includes Gen. William G. "Jerry" Boykin, undersecretary of defense for intelligence under president George W. Bush; Adm. John Poindexter, national security advisor under president Ronald Reagan; and retired Air Force Lt. Gen. Thomas McInerney, who was vice commander of U.S. Air Forces in Europe.
"What I don't like about this is, the number one leading radical Islamic group in the world is the Iranians," McInerney noted. "They are purveyors of radical Islam throughout the region and throughout the world. And we are going to enable them to get nuclear weapons. Why would we do that?" the Fox News Channel military analyst said.
Last week, a group of former special forces officers, soldiers and sailors known as Special Operations Education Fund, or OPSEC, again urged Secretary of State John Kerry to suspend any and all security clearances presently held by former Secretary of State Hillary Clinton; her former Chief of Staff Cheryl Mills, her former Deputy Chief of Staff, Jake Sullivan and her closest advisor Huma Abedin until final adjudication of any violations of national security regulations or laws.
While President Obama pushes his Iranian pact with speeches, personal appearances and selected "with water-carrying news interviewers," he has been totally silent about Clinton's email debacle. "When you recklessly compromise Top Secret Sensitive Compartmented Information, you compromise the security of the United States. We now know Mrs. Clinton's personal email and server contained national security intelligence classified at the highest possible level," the OPSEC president stated.
"Because it was on her personal system and the information was classified at the time the emails were sent, that intelligence is now considered to be compromised. The standard procedure is that all individuals involved would have their access to classified information suspended pending an investigation" said Taylor.
Jim Kouri, CPP, the fifth Vice President and Public Information Officer of the National Association of Chiefs of Police, has served on the National Drug Task Force and trained police and security officers throughout the country. This article originally appeared in the Examiner and is reprinted by permission of the author.