Putin Schools Obama at the UN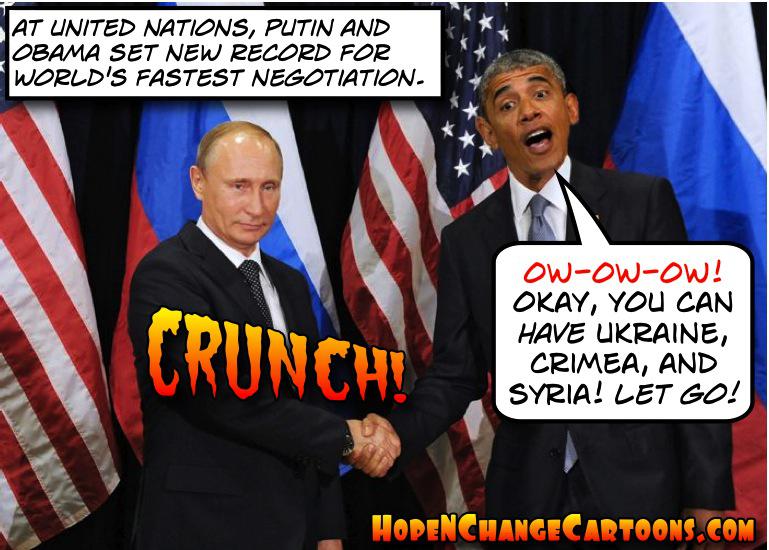 On Monday, Vladimir Putin met briefly with Barack Obama at the United Nations because he was  hungry and wanted to eat the president's lunch, drink his milk shake, and then gobble up other nations for dessert.
Actually, we think that only happened metaphorically, but we're not 100% sure because it's hard to imagine President Dweebypants being in a room with Putin for more than 15 seconds without basically giving the Russian strongman everything he wants.
The two leaders were at the U.N. to explain their differing approaches to the twin crises of Syria and ISIS. Putin believes in arming Syria and its murderous dictator, Assad, and combining forces with other nations to crush ISIS and then crush anyone else who doesn't like the idea of Putin taking over the world.
Obama, on the other hand, basically said that Assad is a stinker and Putin is on the wrong side of history, and that the United States – which has the most powerful military in the world – was immediately launching a "wish initiative" which consists of hoping (and hoping damn hard) that things will somehow magically "transition" in a way which benefits our national interests.
Mr. Obama also reaffirmed, while wearing his frowny face, that he wouldn't hesitate to use military force to protect our country or our allies (Iran, last time we looked) but that he really doesn't want to because the sort of military forcefulness which Putin is employing so successfully is "butch" and lacks panache.
Frankly, Hope n' Change is embarrassed to have this babbling milquetoast appearing at the U.N. and confirming the increasingly terrified world's belief that the United States is no longer in the superpower business. We're also depressed thinking just how much more damage this nitwit can do with his remaining days in office.