CNBC: The Walking Brain Dead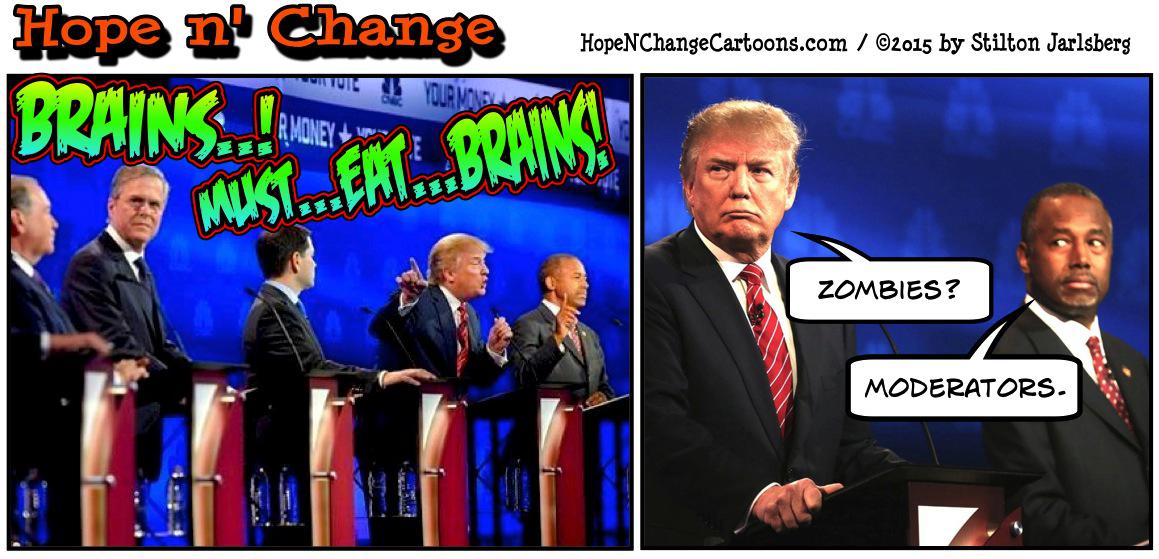 Everyone likes to dress up and play "pretend" for Halloween, which perhaps explains the three idiots from CNBC who were pretending to be journalists during Wednesday night's GOP debate.
Not that they fooled anyone. With hilariously biased, condescending, and argumentative questions the three moderators accomplished the impressive feat of largely unifying the candidates, the studio audience, and the viewing public – all of whom agree that transparent liberal bias has made a mockery of what used to be an honorable profession.
Despite the GOP candidates themselves generally making a good showing, Democrat front runner Hillary Clinton had the appalling lack of taste to tweet an animated GIF taken from the Benghazi hearings as her reaction.  It shows her smugly brushing imaginary crumbs from her shoulder, as if to say that dealing with any GOP opponent will be as easy for her as ducking responsibility for four American deaths.
But for now, let's put aside the real horrors of a corrupt media and an even more corrupt politician and focus on other frights associated with one of Hope n' Change's favorite holidays…
 Stilton Jarlsberg is the artistic genius behind Hope n' Change Cartoons and Johnny Optimism. This cartoon originally appeared in Hope n' Change and is reprinted with permission of the artist.