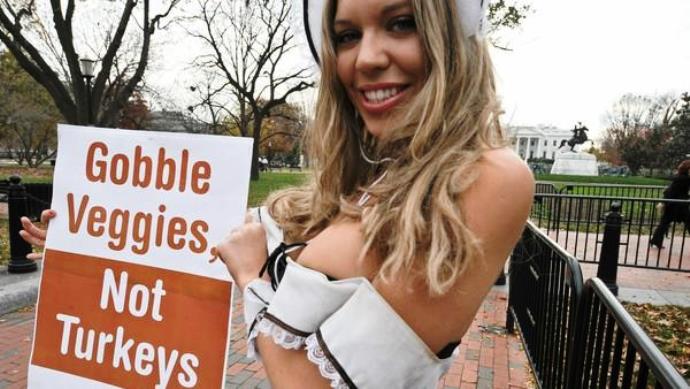 Another holiday, another war. This year, beleaguered Thanksgiving is being attacked on multiple fronts.
The drive for a meatless Thanksgiving is in full swing. Rock legend Paul McCartney made his pitch in an advertisement campaign for the animal rights group PETA. The British vegetarian counsels "Eat no turkey" during a holiday founded by people who fled Britain and discovered turkey. PETA also urged President Obama not to observe the tradition of issuing a presidential pardon for a turkey since it "makes light of the mass slaughter of some 46 million gentle, intelligent birds." Without the Thanksgiving holiday, however, these birds would never have existed in the first place.
The "Thanks-taking" crowd is also active. The American Indian Student Union (AISU) at the University of Virginia scheduled an "Anti-Thanksgiving" event which drew fire after it was publicized on the Drudge Report. AISU representatives said they didn't actually mean to offend anyone. They simply wanted to discuss alternative views of Thanksgiving and the role of Native Americans in society. In fact, the relationship between the Pilgrims and the Wampanoag was one of the more successful Euro-Indian interactions. The group is now holding a potluck in which students will gather and share food, which actually sounds a lot like the original Thanksgiving.
"Sustainable" Thanksgiving has become another fad in recent years. Environmentalists and other panicky people have feigned concern over the excesses of the annual American feast. The Old Town Alexandria Patch offers a number of tips on how to "green" your Thanksgiving, such as shopping at the local farmers market, going "all natural" with gifts and decorations, and bragging about what an eco-conscious person you are. "Your good deeds just might inspire another," the Patch advises. "So, don't be shy. Talk it up!" Thanks-bragging is born. Whether you get invited back next year is another question, but sustainable Thanksgiving has always been a contradictory proposition. Thanksgiving by its nature is unsustainable. It is a holiday feast, not just Thursday's dinner.
Labor groups are suddenly discovering the virtues of American traditionalism on this holiday. Protests have broken out against stores like Target and Wal-Mart that are opting to open their doors for part of Thanksgiving Day in order to get a jump on Black Friday shopping. A Target employee's online petition to "take the high road and save Thanksgiving" has gained over 360,000 signatures. The petitioner argues that "since workers need to show up sometimes hours before the store officially opens, this will take much of Thanksgiving away from retail employees across the country. Target can take the high road and save Thanksgiving for employees like me and our families by saying no to 'Thanksgiving Creep.'" Unions are also planning self-defeating strikes on Black Friday, in the quest for better pay, better hours and more affordable health care. Unfortunately, they also back an administration in Washington whose policies are forcing businesses to pay less, cut back hours and raise health care costs.
Torn between social movements, commercialism and the stresses of modern life, somehow Thanksgiving survives as a cherished holiday. One reason is because of its essentially American character. It celebrates the touchstones of traditional life, family, hearth and faith. It is a day when people gather in good fellowship to enjoy each other's company. So long as these remain constant, Thanksgiving will endure. Because we have to be giving thanks for something.
James S. Robbins is the author of The Real Custer: From Boy General to Tragic Hero. This column originally appeared in The Washington Times and is reprinted by permission.