Obama's Predictably Weak ISIS Speech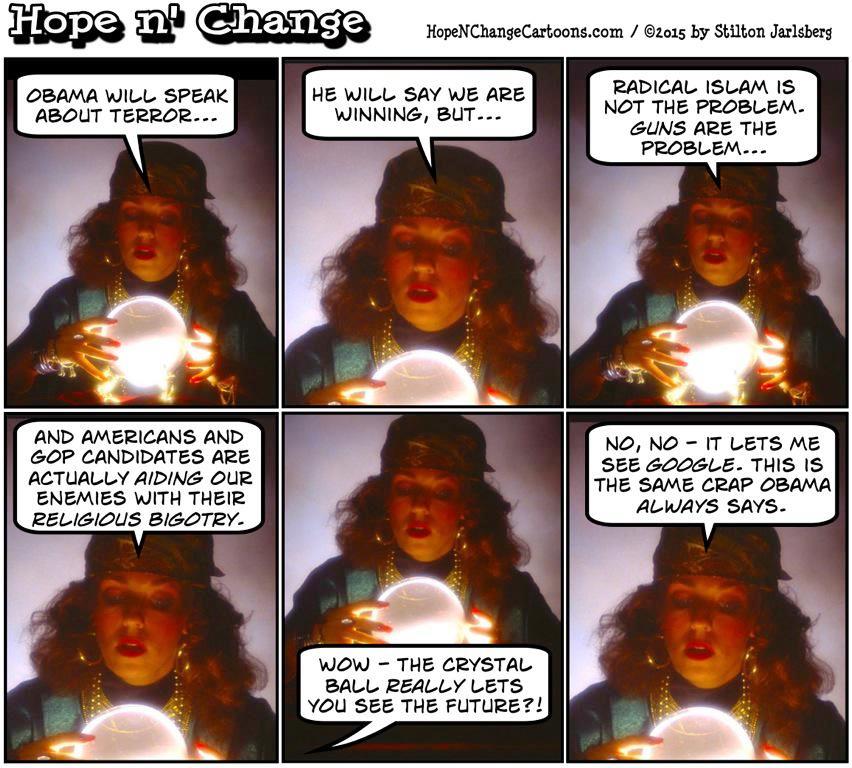 We're writing this before Obama's Sunday night address to the nation about the largest successful terror attack on American soil since 9/11. And as much as we'd like to hold off on our commentary until he's spoken, stringent press deadlines simply won't allow it. Because by "stringent press deadlines," we mean that there's only a 50% chance that we'll be cold sober when Barry starts talking, and a 0% chance that we'll be sober afterwards.
So instead we've decided to exercise our mystic psychic powers to predict what Obama is going to say, and let you check us for accuracy. Hush now as we dim the lights, put on some eerie music, and gaze into the future…
• Obama will still give "workplace violence" as much blame as ISIS.
• Obama will say that by virtue of committing murder, the California killers weren't Muslims.
• Obama will say (feistily) that GOP candidates are stirring up a rhetoric of hate which plays into the hands of our enemies.
• Obama will partially blame that darned 1st Amendment for making it hard to keep people from finding self-radicalizing materials.
• Obama will more strongly blame the 2nd Amendment for making "weapons of war" too easily accessible.
• Obama will call for bipartisan action on gun control, express doubt that it can happen, then announce that he intends to take executive action on stricter gun control measures.
• Obama will say our nation's greatest weapon against terror is multi-culturalism and the increasing importation of refugees who are very, very carefully screened.
• Obama will not find fault with the very, very careful screening process that allowed Tashfeen Malik to enter our country for the purpose of mass murder, nor will he suggest that the process be changed.
• Obama will not make a strong statement of war against ISIS, nor concede the growth of their size, wealth, and influence on his watch.
And finally, we predict that he will end his speech by saying "God bless America" but not meaning it.
==========
POST-SPEECH REVIEW
Okay, now we've seen the remarkably passionless speech and we're going to honestly review our predictions. First, we'll say that overall Obama actually seemed to reluctantly acknowledge that radical Islam is a problem (although he didn't have much of a choice). Below are our predictions and whether we got them right, partially right, or wrong.
• Barry didn't blame "workplace violence" but made a point of referring to the victims as "coworkers." (partially right)
• Barry said that the ideology of ISIS is a "perversion" of Islam (partially right).
• Obama referred to "this political season" and rhetoric which plays into the hands of ISIS (right).
• Obama did not blame the 1st Amendment for access to radicalization materials (wrong).
• Barry said that making guns harder to obtain will help fight terror (right).
• He called for bipartisan gun control efforts, but did not say he was taking executive action (partially right).
• Obama praised multi-culturalism, refugees, and immigration (right).
• Obama said he is asking for a "review" of the process that let Tashfeen Malik into the country, even though other officials have already said the policy won't be changed. Still, we'll call it (wrong).
• Obama did not make a credible war cry against ISIS, or admit to its growth (right).
• Obama said "God bless the United States" but didn't mean it (right).
All in all, we'll credit ourselves with a pretty good batting average.
Stilton Jarlsberg is the artistic genius behind Hope n' Change Cartoons and Johnny Optimism. This cartoon originally appeared in Hope n' Change and is reprinted with permission of the artist.