Obama Claims the Right to Bar Arms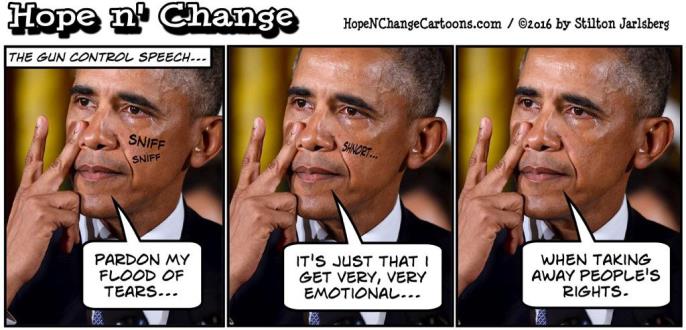 Barack Obama took to the airwaves yesterday to announce his new round of gun control executive orders, and dab at his eyes with stinging, jalapeño-juice stained fingers in order to feign what actual humans call "tears."
Declaring for the umpteenth time that he is being driven by Dr. Martin Luther King Jr's "fierce urgency of now," the president listed measures intended to close the "gun show loophole," prevent firearms ownership by Social Security recipients who need help managing their affairs, enable (and/or require) physicians to report people with mental instability to the FBI ("the patient was wearing a Donald Trump Make America Great Again campaign hat"), and possibly require people selling only one gun to first obtain a costly seller's license which takes the government months to process. Or longer, if Lois Lerner is in charge.
However, the executive orders weren't entirely one-sided. According to the president, even buyers who have been repeatedly convicted of violent crimes and are certifiably insane can still spend up to $150 billion a year on guns, threaten their neighbors, stockpile arms, fire missiles at American aircraft carriers, and…no, wait, that's his deal with Iran.
In any event, the president's executive orders are expected to be immediately challenged as unconstitutional, although his crocodile tears did dry long enough to sneer, "No matter how many times people try to twist my words around, I taught constitutional law."
Which perhaps explains why he wasn't home to watch the TV episode of Schoolhouse Rock which explained where laws come from.
Stilton Jarlsberg is the artistic genius behind Hope n' Change Cartoons and Johnny Optimism. This cartoon originally appeared in Hope n' Change and is reprinted with permission of the artist.