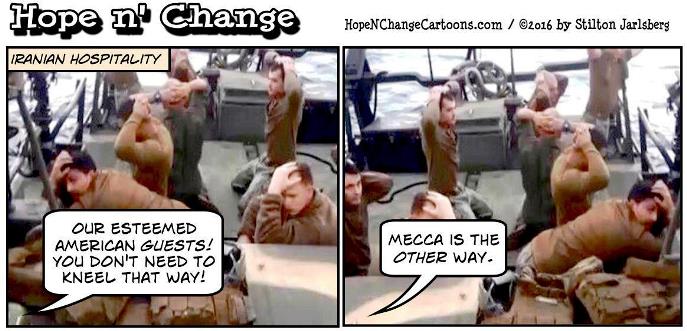 We're not getting much useful information about the weird incident in which Iranians seized 10 sailors aboard two US Navy ships which had inadvertently entered Iranian waters. The ships and sailors were later released, which earned Iran a big fat "thank you!" from Secretary of State John Kerry along with a renewed promise to expedite the $150 billion jackpot they recently won playing presidential Powerball.
But after Washington officials had praised the kid glove treatment our sailors received, Iran broadcast video across the region of them kneeling on a ship's deck, hands on heads, held at gunpoint. The Geneva convention specifically forbids the taking and distribution of such propaganda images, but then again Iran has never been known for honoring conventions, UN sanctions, treaties, or (ahem) nuclear deals.
Hope n' Change certainly doesn't find fault with the sailors who, we're sure, had very specific orders not to engage in hostilities with Iran (our newest and most important Mideast ally). But the sight of Americans on their knees makes us want to kick some asses. In Iran and Washington.
Stilton Jarlsberg is the artistic genius behind Hope n' Change Cartoons and Johnny Optimism. This cartoon originally appeared in Hope n' Change and is reprinted with permission of the artist.