UN Dismisses Terrorism as Just "Human Nature"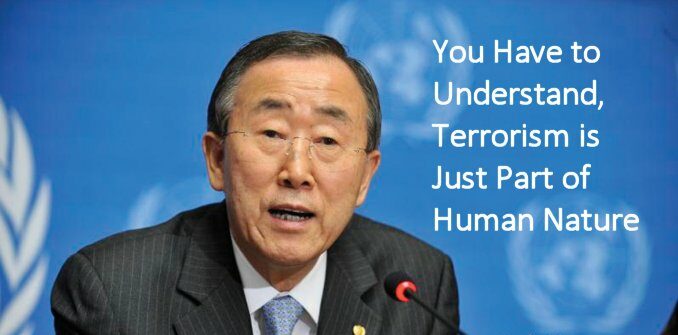 Hussein Abu Ghosh, 17, and Ibrahim Yusef Allan, 23, both students at the West Bank's Bir Zeit University, climbed over the fence at the Jewish village of Beit Horon intent on achieving martyrdom by killing innocent Jews.
In a well-planned attack in a busy village grocery, the assailants first scuffled with a middle-aged man who managed to fend them off with a grocery cart. Then the "heroes" found two defenseless women to stab, one of whom, Shlomit Krigman, 23, later died from her wounds.
Their plan included detonating three pipe bombs, but security guards shot the killers dead before they were set off.
There will be inevitable denunciations from Sweden and the Arab nations that the "students" could have been taken alive. After all, they only had knives and homemade pipe bombs.
This attack and others like it originated long before these two murderers climbed over that security fence. It began with the incitement promulgated throughout Palestinian institutions, from the mosques to the political structures. Even before the terrorists began planning their attack they had plenty of role models, for throughout the Palestinian territories there are streets, parks, and public buildings adorned with the names of lionized terrorists.
The Facebook page of the Kalandiya refugee camp was quick to post pictures of Hussein Abu Ghosh calling him a "heroic shaheed (martyr)." Such is the culture of the Palestinians, where the murderer of an innocent young woman is celebrated and emulated, not scorned.
Abu Ghosh's Facebook page describes actions of past "martyrs" and portends future sacrifice for the cause. In light of all the political correctness infractions that Facebook regularly censors, one wonders why these and other anti-Semitic posts are not taken down.
World leaders were also not slow in reacting. In the wake of Shlomit Krigman's murder, UN Secretary General Ban Ki-moon asserted that it was "human nature to react to the occupation, which often serves as a potent incubator of hate and extremism."
As long as its Secretary General can attribute the murder of an innocent young woman to human nature, the UN's capacity to make meaningful moral judgments is profoundly impaired.
Moon's allegations follow the mantra of leftists and the Palestinians themselves. Yet, it is Israel that has repeatedly attempted to negotiate a way out of the conflict. Palestinian Authority President Abbas has been offered more than the 95 percent of what Arafat asked for at Camp David and which Arafat rejected. Abbas also said what the Palestinians have repeatedly said, no.
Like Moon, much of the world subscribes to the notion that the Israelis are occupiers and, consequently, anything done to free oneself of occupation is justified. A just cause thus yields moral license. Or as the Stalinists put it, you can't make an omelet without breaking eggs.
Jihadists kill in the name of Allah, an act which Rabbi Jonathan Sacks calls altruistic evil, for the very notion that God calls for killing in His name is evil. This is not God's will but the misperception of the world as being simplistically divided into good and evil. One's sacred cause is good, everything else is evil. Being part of the good gives moral license without constraints.
Hatred becomes the great unifier of such causes, for hatred destroys rational thought and with it the constraints of civilization. As long as men and women stand in high places and provide justification for hatred, there will be more killing.
Hatred stirred by incitement and forged in the crucible of altruistic evil explains why two university students with their lives ahead of them sought death rather than life. They sought "martyrdom" in the killing of innocents, for their culture had long inculcated the idea in them.
As long as terrorism is praised as a natural condition of a cause perceived as just, evil will prevail. When the quest for reward in the next world supersedes the pursuit of peace, the perversion of God's will become the norm.
It is neither human nature nor God's will to fatally stab an innocent young woman or to slaughter a mother in front of her children — even if they are Jews.
Abraham H. Miller is an emeritus professor of political science, University of Cincinnati, and a senior fellow with the Salomon Center for American Jewish Thought. This article originally appeared in The American Spectator and is reprinted with permission of the author.