Obama Blowing Off Scalia's Funeral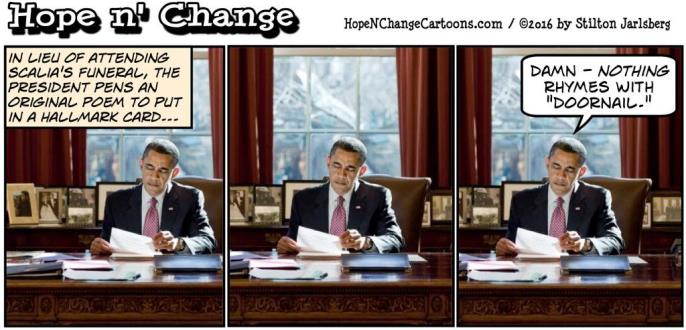 Owing to an absolutely unavoidable scheduling conflict involving a critical tee time, Barack Obama has decided to skip Supreme Court Justice Antonin Scalia's funeral on Saturday, but will "pay his respects" on Friday.
According to a highly-placed White House source who may or may not be imaginary, the president was reported to have said "I would have gone, but it's not like we're running out of Supreme Court Justices. Hell, we've still got eight of 'em! Moreover, if I go to the funeral of one, then they'll all expect me to come to their funerals. That's a dangerous precedent I'm not willing to set."
In fairness, Mr. Obama does have a lot on his plate, what with planning for next month's visit to Cuba. While there, the president is expected to tender official apologies to the Castro brothers for our nation's disgracefully aggressive conduct during the Cuban Missile Crisis and, by way of reparations, offer to help foot the bill to bring Russian missile batteries back to Havana.
Mr. Obama will also visit the grave of Che Guevara as part of a solemn ceremony which involves leaving a large briefcase of cash behind the headstone, feeling that "somehow I owe it" to the revolutionary's sole surviving granddaughter, Texas judge Cinderela Guevera.
Still, Barry isn't completely stiffing Scalia's funeral (so to speak). No, he's sending…
Old Black Ops Joe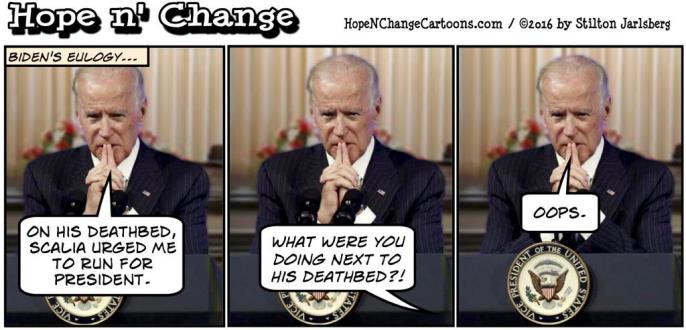 Stilton Jarlsberg is the artistic genius behind Hope n' Change Cartoons and Johnny Optimism. This cartoon originally appeared in Hope n' Change and is reprinted with permission of the artist.