Juggernaut Is Real as Frontrunner Wins Nevada In Landslide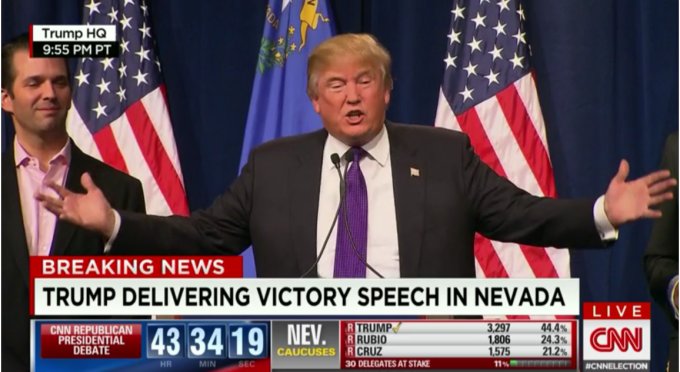 Donald Trump leaves Las Vegas tonight after hitting the electoral jackpot.  In a chaotic caucus that made Iowa look like a model democracy, Nevada was called for Mr. Trump within one minute of the polling sites closing. Early results showed an almost 20-point margin for his third straight win.  
Following a 10-point victory in the Palmetto State on Saturday, Mr. Trump roused supporters at his victory party. "If we can win in South Carolina, we feel we could run the table," he said. Looking ahead to the contests over the next two weeks, the billionaire businessman might do exactly that.
There are 12 contests that make up March 1's Super Tuesday showdown. Mr. Trump currently is ahead in the polls in 8 out of 12 of those states, and 11 out of the next 15. Of the rest, Ted Cruz leads two, the top three candidates are tied in another, and a fourth has no recent polling data. Here's the rundown:
Virginia (49 delegates): According to a Feb. 14 Christopher Newport University poll, Trump has 28%, Rubio has 22%, Cruz 19% and Kasich and Carson both have 7%.
Georgia (76 delegates): According to a Feb. 23 Fox5 poll, Trump has 34%, Rubio 22%, Cruz 20%, Kasich 9%, and Carson 8%.
Massachusetts (42 delegates): According to a Feb. 21 Emerson poll, Trump has 50%, Rubio 16%, Kasich 13%, Cruz 10%, and Carson 2%.
Vermont (16 delegates): According to a Feb. 17 Castleton University poll, Trump has 32%, Rubio has 17%, Cruz 11%, Kasich 10%, and Carson 3%.
Oklahoma (43 delegates): According to a Feb. 9 Oklahoman poll, Trump has 30%, Cruz 25%, Rubio 21%, Carson 6%, and Kasich 3%.
Tennessee (58 delegates): According to a Feb. 3 Vanderbilt University poll, Trump has 33%, Cruz 17%, Carson 7%, Rubio 5%, and Kasich less than 1%.
Alaska (28 delegates): According to a

Jan. 23

Alaska Dispatch poll, Trump has 28%, Cruz 24%, Carson 8.5%, Rubio 7% and Kasich 2%.
Alabama (50 delegates): According to a December poll conducted by the state GOP, Trump has 35%, Cruz 15%, Carson and Rubio are tied with 12%, and Kasich has 2%.
The four Super Tuesday contests in which Mr. Trump is trailing or tied are:
Minnesota (38 delegates): A Jan. 25 Minneapolis Star-Tribune polls shows Rubio, Cruz and Trump locked within the margin of error of each other with no clear leader.
Colorado (37 delegates): There have been no polls in the Rocky Mountain State since early November when Carson was the leader with 25% and Rubio, Trump and Cruz were all clumped together in the teens, and Kasich had 1%.
Arkansas (40 delegates): According to a Feb. 4 Hendrix College/Talk Business poll, Cruz has 27%, Trump and Rubio are tied at 23%, Carson has 11%, and Kasich 4%.
Texas (172 delegates): According to a Feb. 23 University of Texas/Texas Tribune poll, Cruz leads with 37%, Trump has 29%, Rubio 15%, Kasich 5%, and Carson 4%.
Further revealing the commanding strength of Mr. Trump's position is that he leads Sen. Marco Rubio and Gov. John Kasich in their own home states. Mr. Trump's advantage in Florida is 15 points, according to a Feb. 22 Rasmussen poll, and 5 points in Ohio, according to a Feb. 23 Quinnipiac survey. A week after Super Tuesday is the Michigan Primary, where The Donald currently enjoys a 10-point lead over Cruz and 13 over Rubio, according to a Feb. 20 Detroit News/WDIV TV poll.
There is so much media noise over whether Sen. Cruz, Sen. Rubio or Gov. Kasich holds the strongest position for second place that it's easy to overlook the reality that second place doesn't matter as the frontrunner continues to etch more notches in his belt. There will be increasing pressure on perceived also-ran candidates such as Kasich to drop out so the Republican establishment can concentrate the anti-Trump vote behind one campaign. However, after steaming through Nevada, the Trump Train keeps a-rollin' with no sign that his competitors can derail it.
Brett M. Decker, a director at the White House Writers Group, is a former editor at the Wall Street Journal and editorial page editor of the Washington Times. Follow him on Twitter @BrettMDecker.