Iran Says Obama Is Weak, America On The Decline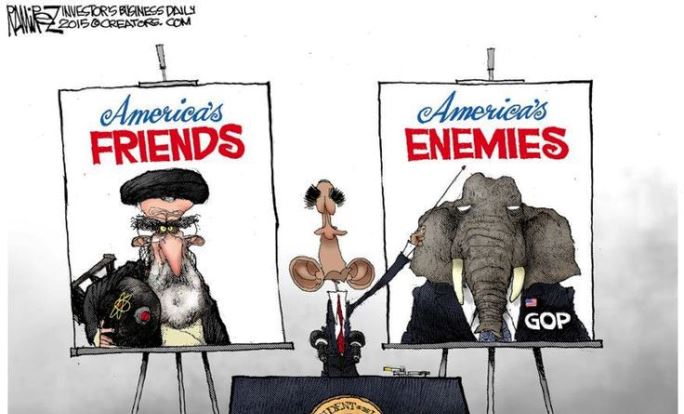 Speaking candidly and openly to a number of high-level Iranians in both public and private sectors, the Supreme Leader of the Islamic Revolution, Ayatollah Seyed Ali Khamenei, in a speech claimed the United States, under President Barack Obama's leadership, no longer possesses the might and awe it once enjoyed, according to Middle Eastern news sources.
Speaking during a meeting of Iran's Assembly of Experts in Tehran, the Ayatollah promised that the current "world order" will be replaced with a new world order that is already emerging not only in the Middle East but also in the West.
"The realities in the region and the world show a serious uncertainty in the [America's] principles of power and might; therefore, we should understand the realities correctly to prevent wrong analyses," Khamenai said.
Ayatollah Khamenei, while encouraging his followers to believe his words, falsely claimed there was failure by the Zionist regime to win its "war against the Palestinians in Gaza Strip." He stated, "The recent war in Gaza was an example of miracle; a small region with limited capabilities accomplished a task that brought the Zionist regime, as the symbol of the West's power, to its knees."
"It's amazing how puffed up this leader and his minions are. Most of their so-called technological achievement are a result of economic or military espionage. One of America's biggest crime problems is Iranians or their agents stealing intellectual property from both the government and from businesses," according to corporate director of security and cyber crime expert Jonathan Christian Peters.
Many Iranian officials criticized their country's priority of building up its military might with expensive armaments and projects such as their recent unveiling of a missile defense system and a new, domestically built stealth fighter jet. The Ayatollah said that the new world order will depend on a nation's economic and technological advantages being preferred over its military prowess.
Ayatollah Khamenei, sounding very much like the leaders of industrialized Western countries, said that a transitional period will entail the end of the "bipolar world" and the start of a unipolar world that hasn't arrived yet. The Supreme Leader said that the "time for voluntary isolation has gone."
The Ayatollah, who is considered the real power in Iran, noted that "Iran's cultural heritage and its great civilization along with its independence seeking discourse rooted in the Islamic Revolution culture has increased the Iranian potentials to play a key role in the creation of the new world order."
Jim Kouri, CPP, the fifth Vice President and Public Information Officer of the National Association of Chiefs of Police, has served on the National Drug Task Force and trained police and security officers throughout the country. This article originally appeared in Conservative Base and is reprinted by permission of the author.