Hillary Says No-one Died in Libya, Ignores Benghazi Casualties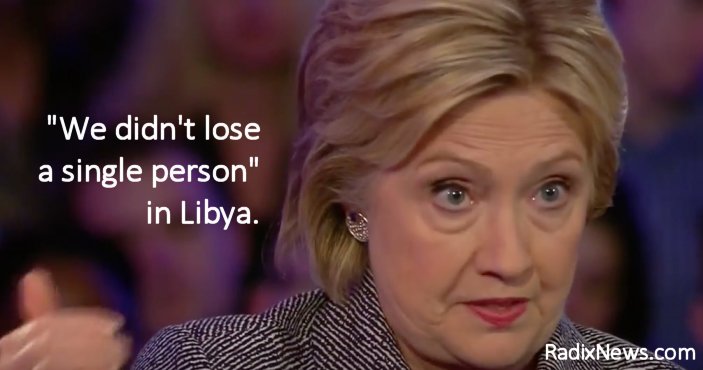 Democratic Party's presidential hopeful Hillary Clinton boasted during a campaign speech Monday night,  that the during her reign as President Barack Obama's secretary of state "didn't lose a single person" in Libya. Her problem is most Americans know her statement is not true — "perhaps it was an intentional lie by a pathological liar with a long record of being caught fabricating facts," according to a number of counterterrorism police and military experts.
Clinton made the comment on MSNBC while defending her actions in pushing for the overthrow of Libyan dictator Muammar Gaddafi which created a the war-torn nation with terrorist groups and militias tearing the country apart.
"Now, is Libya perfect? It isn't," Clinton said. "Libya was a different kind of calculation and we didn't lose a single person … We didn't have a problem in supporting our European and Arab allies in working with NATO."
"The truth is that four brave Americans were killed by Muslim terrorists during a 13-hour battle in Benghazi while Obama slept and Clinton couldn't be found. Her statement is just one in a long history of lies over the last three decades. In fact, she was fired from her job with the congressional committee investigating President Richard M. Nixon and the Watergate burglary after it was discovered she was distorting the facts," said former police anti-terrorism commander Jacob "Big Jake" Greer.
"The coverage of Hillary Clinton's statement received scant media coverage and in fact the news people actually helped her. A gaffe? A gaffe? That wasn't a gaffe. That was another Clinton lie, plain and simple, and even now her supporters are lying about what she actually meant. I'm sure she doesn't have any problems communicating when it comes to negotiating how much she or her husband will get paid for a 'speech,'" Greer added.  "A gaffe is when a Vice President misspells potato," he added.
Dr. William Beaty in 1998 described Pathological Dishonesty Disease as being "'Convenient Disremembering.' They constantly rewrite history to make themselves look good, and they view themselves as good people, even though their actions are very different from those of a good person." http://amasci.com/maglev/levbill1.html
Jim Kouri, CPP, the fifth Vice President and Public Information Officer of the National Association of Chiefs of Police, has served on the National Drug Task Force and trained police and security officers throughout the country. This article originally appeared in Conservative Base and is reprinted by permission of the author.