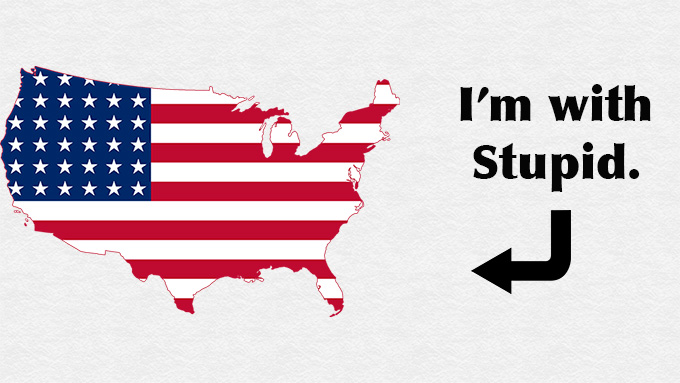 I've been waiting for each aspect of American life to fall to the level of stupid. Music made it with Rap. History made it with Howard Zinn. Television started pretty much at stupid and, with some exceptions, stayed there. Clothing leads in many categories as it advances to body paint replacing women's pants.
America leads the world in most stupid categories, but are trailing Canada when it comes to physical relationships. Our neighbor to the north recently gave the green light for people to have sex with animals if no actual penetration is accomplished. It appears that you may sniff and lick your dog's butt for example, and commit other crimes against nature I was too repulsed to read about.
The dumbing down of America is reaching its apogee. In a smarter America people could read and write our language, knew a modicum of useful history, and had at least a quick swipe at civics and/or social studies in school. They might even have heard of Washington (other than how he treated his slaves) Lincoln (other than how he didn't do enough for the slaves), and have a fair knowledge of the Constitution. They might know more about the Civil War, World War II and Vietnam than they picked up in movies. We might have music that had actual melodies and lyrics that could be sung in polite society without sounding racist, sexist or endorsing cop killing. We are now in the most crass, vulgar and impolite period of American history. Congratulations to the liberals who felt guilty being superior to stupid people. Your children have joined their ranks.
Yes, I'm getting to Stanford and Harvard. Harvard, as most people know, was engulfed and poisoned by the lower region gaseous emissions of the liberal Northeast and the belching sulfuric bad breath emanating from our nation's capital. An education there today consists of learning how not to be an American, or at least to feel guilty for being one. American common sense and ambition are now verboten. Leftists relentlessly teach the superiority of everyone else in the world, regardless of the fact that even hearing about the oppressive systems most non-Americans suffer under would send the precious campus flowers sprinting to their safe spaces. Campus liberals preach tolerance to smash dissent, they fight racism by denouncing whites and their privilege. Only a university could be this disconnected from reality.
Ironically, there was a university on the West coast – in California, the cornucopia of stupidity and duplicity — that for decades was an institute of higher learning with values and acceptance of common sense upon which was layered a brilliant education. That would be Stanford.
But even Stanford is sinking. In some musty attic or well-lit conference room it was decided that Stanford should invite Ken Burns to speak at commencement. There might have been some objection:
"He just takes pictures of pictures, interviews some people, and calls it a documentary." Well, yes, but he's won awards.
"But he is not a serious historian. And a great many people believe that his left-leaning agenda distorts the very history he copies." Exactly. And by bringing him to Stanford we can show the East Coast that we are as goofy and influenced by trendy elitism as anyone else.
Besides, what harm could he do? The guy's apex of creativity is making movies out of old photos. It's not as if we're inviting him out to give a half hour political speech on the historic rise of our future Beloved Leader Hillary Clinton.
But of course that's exactly what Ken Burns did, by implication. There are only two assumed presidential candidates—Clinton and Trump. Attacking one of them relentlessly is support for the other. Even in dumbed down America.
First of course he established his liberal credentials:
"He has "diligently practiced and religiously maintained a conscious neutrality in my work." This is what biased people say before they launch into their harangues.
"If you want to make God laugh, the saying goes, tell her your plans." Oh that clever devil. A feminist too. He didn't say Allah though, that would be offensive, and later redacted.
"History is a mysterious and malleable thing, constantly changing, not just as new information emerges, but as our own interests, emotions and inclinations change."  So remember that guy in the Civil War uniform standing next to the cannon? Yeah, now he's a transgendered veteran who favors gun control.
Then Burns launched into the litany of charges against Donald Trump, "a person who easily lies, creating an environment where the truth doesn't seem to matter." Surely there were many in the Stanford audience of students and parents who initially thought, "what the hell. He's switched to bashing Hillary."
Burns' egregious demonstration of poor taste, prejudice, and irresponsibility reportedly elicited scattered booing. I wish I had been there to join the jeering of a pretentious jackass who rewrites history according to his interests, insults the intelligence of Stanford graduates, and reminds parents of the excessive costs of creating people who don't respect or admire them. Burns bent the arc of Stanford further toward the cultural cesspool of those who enjoy the tastiest fruits of a land they are being taught to reject.
History is the cornerstone of advancement and understanding of a culture and a nation. There is a reason why a conquering horde destroys the history of the vanquished, often rewriting it to a new and unrecognizable form. And when the Romans tore down Solomon's temple in Jerusalem they probably called it urban renewal.
Phillip Jennings is an investment banker and entrepreneur, former United States Marine Corps pilot in Vietnam and Air America pilot in Laos. He was also an agent for the Central Intelligence Agency in Central and South America. He is the author of two novels and one best-selling non-fiction book, and received the Pirates Alley Faulkner Prize for fiction in 1999.
COPYRIGHT 2016 ROCKIT NEWS