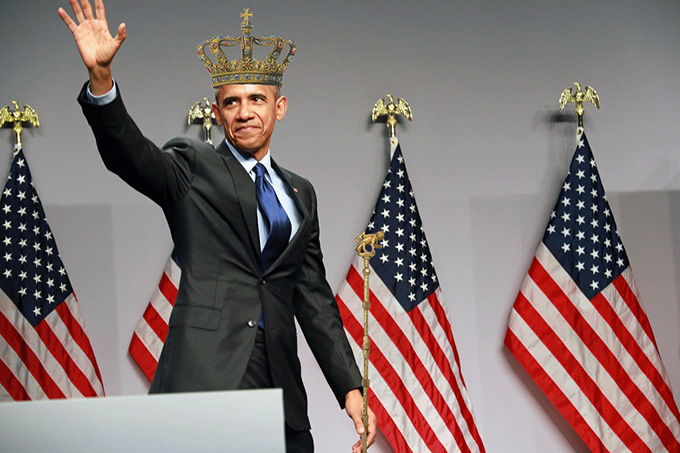 Last week was a tough one for King Obama. A President who has sought to abuse his power to further his agenda has taken two major blows – the supreme court striking down his immigration reform, and the UK voting to leave the European Union (EU).
The Supreme Court deadlocked 4-4 on Obama's immigration policy. This tie leaves in place an earlier injunction by a lower court over a year ago that stopped the program in it's tracks when 26 States claimed Obama abused his powers by circumventing congress.
In typical Obama fashion, I awaited his speech which I knew would be full of finger pointing at Republicans. I wasn't disappointed.
Obama is the victim-in-chief. I have never seen a President that cannot take any responsibility for his own failures. He's the first to jump up and pat himself on the back for his successes and victories, but has a list to blame for his losses. It can never be that he was wrong, it has to be someone else's fault.
I waited for it…I was waiting to hear him blame Republicans for this defeat because they would not approve, nor even consider, his nomination for the Supreme Court. As I see it, Obama figures if his pick was approved, there would be no way he/she would be the deciding vote against his immigration policy and abuse of power, and the court would have ruled in his favor. It didn't take long before he launched right into his blame routine exactly as I predicted.
Obama is quick to point out when he thinks his rightful powers as President are being infringed upon. But don't dare question those rights when he steps way out of bounds himself. The rules work when they favor Obama, but when they don't, he feels it is ok to bend those rules.
Obama is selective in the history and "facts" he gives out. He may say that it is his right to appoint a Supreme Court judge as he is the sitting President, and yes it has happened before, but he fails to mention that in our nations history, waiting for the next President to be elected before a Congress appoints a justice isn't unheard of and isn't unconstitutional.
According to the "Constitution Daily", a blog site for the National Constitution Center, there have been 8 deaths of a Supreme Court justice during a Presidential election year since 1789. Not something that has happened often. There are a number of cases where the appointment was delayed or pushed off by Congress until the next President was in office. Here are just a few examples (more can be found at – http://blog.constitutioncenter.org/2016/02/why-the-current-supreme-court-nomination-situation-isnt-that-unique/ )
1. "Justice Henry Baldwin died in April 1844 during the campaign that eventually saw James Polk elected as President. Baldwin's death came at a time when President John Tyler lacked any political support in the Senate and he saw a total of eight Supreme Court nominations fail. It took more than two years for Tyler and then Polk to get a replacement approved for Baldwin, when Robert Grier was confirmed in August 1846."
2. "Justice John McKinley came on to the Court as a Martin Van Buren appointee in 1837 and died in July 1852 during the presidential campaign between Franklin Pierce and Winfield Scott. President Millard Fillmore nominated three candidates to replace McKinley. The Senate didn't act on two candidates and one withdrew. The next President, Pierce, has his candidate, John Campbell, confirmed in March 1853."
Some liberals have argued that it is standard that Congress address nominations and vote for a nominee from a lame duck President in his final year of office. As you can see, history speaks quite differently. Congress is in their rights to act as they have been doing.
History also speaks quite differently when it comes to the powers given to Congress and to the Executive branch. An Executive Order by definition is "to help officers and agencies of the executive branch manage the operations within the federal government itself…..Major policy initiatives require approval by the legislative branch," (wikipedia) Now if a site like Wikipedia can state it so plainly, why does our President have such difficulty understanding why passing immigration reform via Executive Order is an abuse of his powers?
Our nation is set up to prevent abuse by any on part of government. Our founding fathers, having survived a tyrant king and having fought for their independence, wanted to ensure that such abuse could not take place in this new nation they were forming. That is why we have balance of powers between the Executive, Legislative and Judicial branches of government and why each can check the power of the other. Obama, acting like a King, has felt these rules don't apply to him if his cause is deemed important enough. It shows lack of respect for his office, lack of respect for Democracy and lack of respect for the people who send representatives to Congress to represent them. It's not a big enough excuse to say "I'm not getting my way, so I'm doing it my way". The Legislature is there for a reason and it isn't much to ask our President to respect our government whether he agrees with Congress or likes how things turn out.
Obama's blatant disregard of our nations rules, our way of government and even our values, has played out many times here and abroad and has sadly weakened our nations influence. You can see this no better than the second hit Obama took in 48 hours. Obama openly campaigned behind Prime Minister David Cameron, inserting himself in the domestic affairs of another country, urging the UK to stay in the EU. America's support and influence used to have a force it's own throughout the world but in recent years we have seen that power erode because we have had a leader who has been so weak and so wrong on so many issues. Wrong again in the EU, Britain's voters ignored Obama's urging and voted to leave the EU, which gets down to one issue – borders. It's an issue that Obama has ignored and played down here in his own country. The threats and risks that have come through illegal immigration and a border that is not secure has helped to lead to a anti-establishment movement in this country, and the rise of a candidate like Donald Trump. Obama has been wrong in so many ways but yet he remains defiant that he knows what is right for this country and even the UK. The people are now speaking. They have spoken in the UK, and they will speak here in the US very soon.
Obama's obsession with passing his agenda and pushing his will on the people, even at the risk of abusing his powers, has brought about a nationwide backlash. His arrogance has led to an uprising not only in the GOP but in his own Party. While he was hit with two major defeats to his agenda today, the tide has truly turned, and one can only hope that there are more defeats ahead for a President who has ignored the will of the people, who has undermined our Nation's influence and security, and who's arrogance has brought about more division in this nation than by those he accuses of being dividers.
Somehow though, I feel all of that in the end, all his failures will still somehow still be the fault of Republicans.
Felicia Tweedy is a political activist who has worked on both sides of the aisle, and an entertainment industry professional.
COPYRIGHT 2016 ROCKIT NEWS