Let Us Address the Elephant in the Room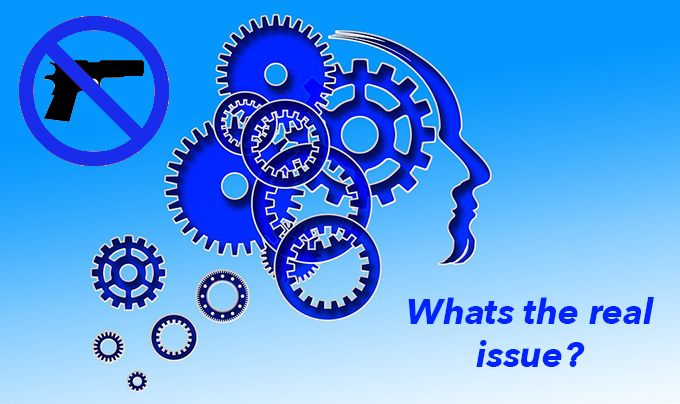 When tragedy strikes our nation, it seems that we get so bogged down in the politics of it and the agenda of particular groups, that we miss the big picture. Orlando was without a doubt a tragedy of epic scale.
The media called it the worst mass shooting in American history.
Worst mass shooting in American history…… at first may seem like an accurate description but take another look and you will quickly see a narrative that is being formed and an agenda that is being pushed with that statement alone. With what we know today, this was a terrorist attack. Yes, a mass shooting can be a terrorist attack but to fall short of calling it a "terrorist attack" is to deny the reality that we currently live in. Mass shootings have happened in our country, for example, carried out at a school by a mentally disturbed young man, at a work place by a disgruntled employee.
But what sets this type of shooting apart is that it is part of a wider effort, part of a war that many in America still want to deny exists, and an enemy we don't want to even appropriately name. The Orlando shooter (who will remain nameless in my article) might have been mentally disturbed – you would have to be to carry out an act like this.
He might have hated a certain group of people, but this guy also swore allegiance to and was influenced by ISIS, the terror organization whose sole goal to is to cause fear, panic and death to Americans and anyone who does not believe as they do. This group has had its follows infiltrate our country, they have influenced and recruited Americans to carry out their reign of terror.
Orlando wasn't an isolated incident, it is part of a wider plot, a war against America, with enemies that are amongst us. To call it a mass shooting instead of a terrorist attack is to deny most of these facts and to deny the world we live. Calling it a mass shooting also supports the narrative and the agenda of Democrats and the liberal left that have been looking for every way possible to push further gun control. Call it a terrorist attack and it's much harder to convince most Americans that gun control laws will help stop another attack.
Most of us can reasonably say that laws don't exactly stop terrorists from carrying out their plans. Call it a mass shooting and we can flash back to shootings in our country carried out by a lone gunman – an American – who bought a gun at a gun show, or through some "loophole." The media and liberals have an easier time of convincing the public that gun laws are the solution. But wait, the agenda and spin doesn't end there.
When I learned the first facts of the attack, my thoughts immediately were that the chosen target and timing had multifaceted reasons for being chosen. In no way am I trying to detract from or take away from the fact that the LGBT community was a target in this attack but the scope of the target appears to be even larger.
The shooter chose a club that was known, beyond being a LGBT club, for its ties to the Latino community. The night the shooter carried out his attack was Latin Dance night. Many of his victims were Latino.
Those close to the case or with insight into the shooter have mentioned that Latinos were a target in this attack as well – but why has there been little mention of this in the main stream media? Donald Trump tweets or makes mention of building a law to stop illegal immigration and Latino and liberal activists go wild.
Where are their voices in this issue? Could it be that some of these "activists" focus isn't on all issues that affect their communities but on certain issues that fit an agenda and oppose a certain political group?
The focus on the LGBT community alone has also been used to push an agenda that anyone who disagrees with the community is "hateful".
There is a big difference of course between what happened in Orlando and someone not agreeing with someones lifestyle. I can disagree with the lifestyle of some of my heterosexual friends but I obviously don't hate them. This tragedy has been used politically by some to squash anyone from having an opposing opinion.
Don't agree? Then you hate or worse, you are somehow like or support this terrorist.
The aftermath of this tragedy should have been a focus on those who died – they were people like everyone else, regardless of their sexual orientation, and they were Americans. Before flying the rainbow flag, we should be flying the American flag. People complain enough about how society marginalizes and separates groups – together all should have come together as human beings and Americans first, not under the label of sexual orientation alone. It was a missed opportunity – but not for those who have used these tragedies for political gain.
When will we address the real issues plaguing our society? When will we address appropriately both mass shootings and terrorism? Don't want someone mentally disturbed to get a gun? Don't you think a system that addresses and deals with mental illness might be more effective than than passing more gun laws? Some of these laws are in place in which in states like California or in cities like Chicago – yet mass shootings have occurred in California and violent crime and murder is rampant in Chicago.
When we get real about the enemy we face in ISIS, define it appropriately and get serious about taking it down? As a nation we need to address the elephant in the room. We need to take on mental health in our society, we need to take on the issue of radical Islam.
Criminals and terrorists will who plan to break the law to begin with, won't be stopped by one more gun law being passed. To think it will or it will make any significant difference is to lean on a false sense of security. Let's stop the agenda-mongering, let's stop the spin, let's stop taking advantage of tragedies and get real as a country. Whether you are gay or straight, black or white, male or female, young or old, in America, what we have in common is that we are all Americans.
As long as groups like ISIS continue to thrive, an issues like mental illness are ignored in our country, we will continue to face the same challenges and threats we have for years in this country.
Felicia Tweedy is a political activist who has worked on both sides of the aisle, and an entertainment industry professional.
COPYRIGHT 2016 ROCKIT NEWS