A Few Words About Hillary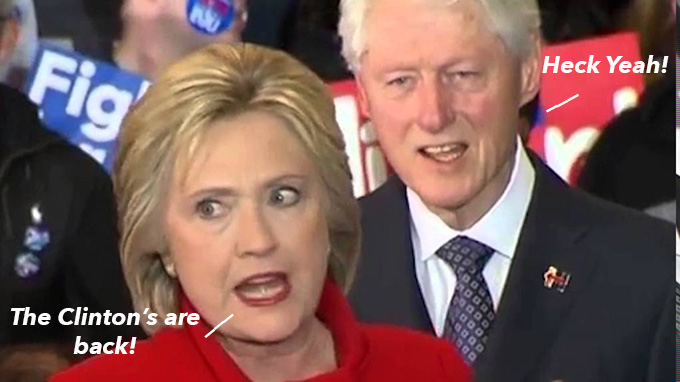 I read a New York Times article Monday morning http://www.nytimes.com/2016/07/04/us/politics/hillary-clinton-president.html?_r=0 envisioning Hillary Clinton's First 100 Days in Office. It was obviously a "fluff" piece as it made no mention of rioting, sex scandals in the White House, the mass release from prison of Bill and Hillary's pals, the knee-slapping laughter of our enemies, nor the run on the banks which her 'genius' in economics is sure to bring on — if nothing else from people trying to get cash before all of it disappears into the Clinton Foundation. (The Clinton Foundation is why we created RICO by the way, but that's another story).
It did say that she would fill her cabinet with women. And there's nothing better to address gender prejudice than blatantly announcing it ahead of time. Men need not apply for any of her silly cabinet positions. The author of the article suggested Hillary would want women because they tend to get along better. Hillary, however, is the best possible response to the absurdity and prejudice of that position.
Other assumptions of the first 100 days were even sillier – for example that she would make an attempt to try to get along with Republicans — but the whole goofy, admiring article was just that. Goofy and admiring.
This article scared the hell out of me. I realized that the most dangerous, damaging, USA-ending baggage that Hillary brings is the hundreds of sycophants and slobbering office-seekers she will re-introduce to the trough of all troughs—the presidential trough. Beginning with the ne'er-do-well in chief, her hubby Bill.
There's no need to go back into his scandal-plagued looting of the White House to see what he would be up to. He demonstrated what is in store just last week. Bill just happened to be lounging around on the tarmac of Phoenix Sky Harbor International Airport when Attorney General Loretta Lynch's government plane landed. So naturally he decided to stroll on over and have a chat. It matters little what they discussed. Let's assume it had nothing to do with the AG's investigation into Hillary Clinton's possible criminal activity being investigated by the FBI. Wait…..we can't assume that, we would be morons to think it had nothing to do with the investigation. And the New York Times piece alleged that Hillary would keep Lynch as Attorney General, in case you didn't think the fix was in.
Hillary Clinton's election would mean the end of any thinking person's respect for law. She is a liar, a cheat, a fraud, a thief, an enabler of sexual abuse, a failure as a lawyer, an accessory to murder in Benghazi, a serial whiner, and a disgrace as a role model for young women. And she is the last person in the whole motley crew of politicians running that I would want as the Commander in Chief of the military she holds in such contempt.
But it's not just Hillary Clinton we would be electing. Her friends and fellow thieves are what make her a thousand times more dangerous than Donald Trump. They will infest the White House like maggots. They are skilled cheats, liars and layabouts like her husband. Her team will suck the marrow from the bones as they steal them. We will never recover from her team of charlatans and morons.
We will get people advising and serving her of the ilk that stuffs documents into their pants to steal classified and possibly incriminating documents from the national archives ala former Clinton National Security Advisor Sandy Berger. People who sell influence like there was no tomorrow. Her friends who are scam artists. Hollywood know-nothings who keep threatening to make America a better place by moving out of the country but never do. And other assorted parasites who either think the government owes them a living, or see this as an opportunity to kill off whatever is left of the American Dream after eight years of Barack Obama.
Donald Trump, by contrast, is his own man. He has assembled a great chorus of Americans. He has not spent the last few decades enriching himself by selling out America or picking the pockets of minorities and taxpayers. Does any thoughtful person really believe that he can or would dismantle the checks and balances enshrined in our Constitution? Because Hillary Clinton has already threatened to do so beyond what Barack Obama has already done. Trump has to promise nothing except a new chance to be proud to be an American. No one would ever confuse that emotion with Hillary.
The American people are smarter and better than the mainstream media gives them credit for. There are good Americans who want a break from the kind of sleazy politics of the Clintons and their sycophants. There will be a chance to reinvigorate America with Trump. With Hillary we have no chance at all.
Phillip Jennings is an investment banker and entrepreneur, former United States Marine Corps pilot in Vietnam and Air America pilot in Laos. He was also an agent for the Central Intelligence Agency in Central and South America. He is the author of two novels and one best-selling non-fiction book, and received the Pirates Alley Faulkner Prize for fiction in 1999.
COPYRIGHT 2016 ROCKIT NEWS