"Unfair", "Rigged", "Biased"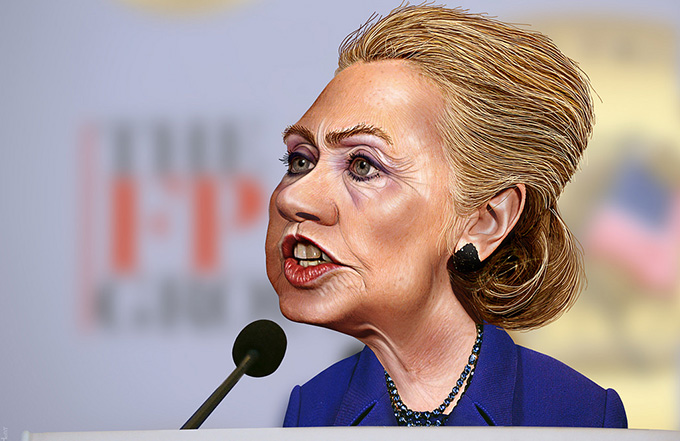 This morning FBI Director James Comey spoke to the press to release the findings of the yearslong investigation into Hillary Clinton's email server. The results of which immediately caused a firestorm on multiple levels.
While no criminal charges are being recommended, Comey stated that "There is evidence to support a conclusion that any reasonable person in Secretary Clinton's position … should have known that an unclassified system was no place" for sensitive conversations. The FBI can also not rule out if the top secret to classified information was compromised by our enemies.
Republicans especially are crying foul, stating that what she did, and the risk she caused to this country's security is enough for criminal charges. They've called the system "unfair", "rigged", "biased" and more. While a disappointment to say the least, this was by far still a major blow for the Clinton campaign and the Democrats in this election year.
Personally, I doubted that criminal charges would be brought against Clinton from the beginning, and not just because of how seemingly corrupt parts of our government have become. I felt, for her to be charged criminally, they would need to find intent or deliberate malice in her handling of emails. Even if this did exists, I felt that any evidence of it would be long gone, and without a smoking gun, it's a very hard charge to prove. While many would say that her position and experience should have led to better judgement and that she is accountable for such "mistakes" as the Clinton campaign is now calling it, there was little precedent to go after her criminally on just that.
While Republicans have the right to be upset and decry a system that they feel is biased, flawed and even corrupt, we must focus on what did come out of this investigation and how that alone, if capitalized upon appropriately, could be a devastating blow to Clinton's campaign for President.
Clinton already has an image problem. Many in her own Party view her as untrustworthy, deceitful, and in it for herself. A Fox News Poll back in May showed that only 31% of voters think that Clinton is honest and trustworthy – meaning two-thirds said they don't think she is. Similar numbers were found in a CBS News/ New York Times poll. Those numbers have only gotten worse in recent weeks and her lead on Trump in the polls has also diminished.
Now add the FBI findings which seem to back up the narrative that she is untrustworthy and dishonest. This investigation has put on full display the arrogance and carelessness of Clinton and the Democrats which has put this country at risk in so many ways. When you are in the position of "Secretary of State", saying "whoops, my bad, I made a "mistake" doesn't cut it. You are put in that position because you should have the qualifications and the judgement that is needed at that level to not make careless errors that put the nation at risk. That is even more paramount for someone who wants to occupy the Oval Office. Time and time again Clinton has shown poor judgement and downright deceit, yet she thinks that a simple "whoops" makes it all better for the American people. We still don't know, and may never know, exactly what information was compromised because of Clinton's negligence. She should have known better.
She should have known better about the email server to begin with. As someone who has been in politics for many years, had she not foreseen the security risk, she should have seen the political risk she was taking on, especially as someone who had their sights set on the White House. That leads me to look at three possible scenarios – 1. Either her judgement is so poor and she is so careless that she didn't think of the risk 2. Her own convenience outweighed any risk she foresaw, and that is arrogance and narccism or 3. She wanted the server for her own security, and by security I mean the ability to control the information. Meaning in an investigation like this, she had the ability to control what emails were given, which ones were marked personal and which ones were deleted. Just because the FBI, in interviews with Clinton's lawyers, couldn't find any evidence of malice or deliberate actions to code emails as personal or to delete ones that were business related, doesn't mean it didn't happen. Which ever of these 3, or a mix of them, existed, this is not a person that is fit for the highest office in the land, where keen judgement is key and there is no room for carelessness or "mistakes".
Trump, his campaign, and Republicans need to hammer into the public discourse this proven lack of judgement, this extreme carelessness, and dishonesty that we saw before and has now been proven by the FBI investigation, even without criminal charges. This can only deepen the doubts of many in this country, especially undecided/independent/middle of the road voters, about whether she is fit to lead. I have said the following for awhile in regress to the attacks on Donald Trump and people saying "we don't know what to expect from him" – We may not know what to expect from Trump as a politician, a leader or a President, but we sure do know what to expect from Hillary Clinton. We've seen it time and time again, and it is now on full display in this FBI investigation report. I'd rather go with the "unknown" than go with proven failure.
Felicia Tweedy is a political activist who has worked on both sides of the aisle, and an entertainment industry professional.
COPYRIGHT 2016 ROCKIT NEWS