Trump Is Right: Blame Both Sides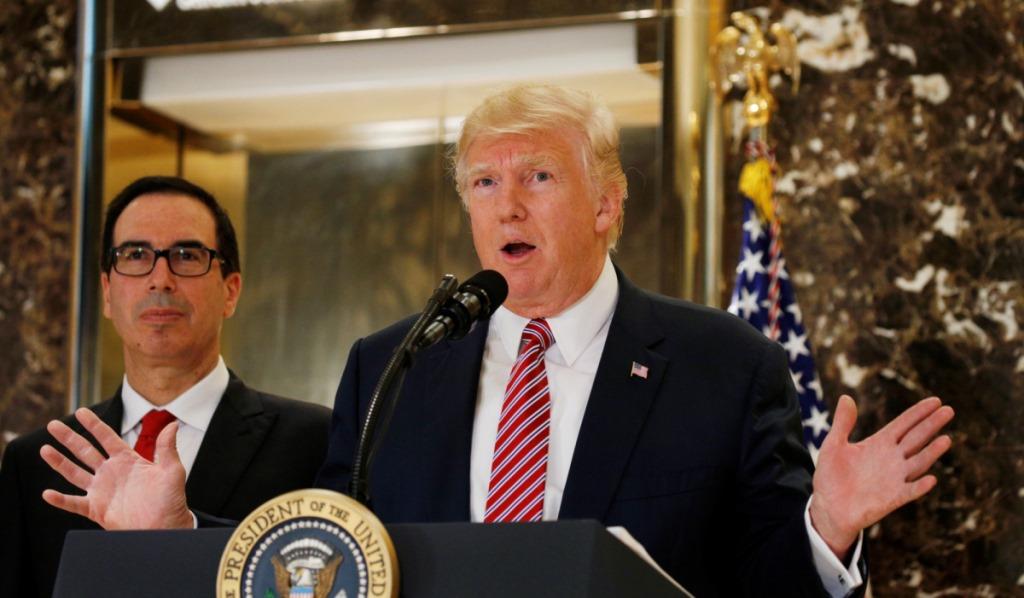 Pundits, politicians and the press went nuts when President Trump said both sides were to blame for the weekend violence in Charlottesville. But he was absolutely right.
My frustration with our political leaders and the mainstream media overflowed as I watched news coverage of the events in Charlottesville this past weekend. The same questions have been asked repeatedly since Saturday: How can this be America? How have these White Supremacist groups grown and become emboldened? And most pundits came up with the same reflexive answer: It was Donald Trump's fault. As usual!
Yet the real answer to their questions lies right within themselves. It lies within the contradiction and double standard of liberal ideology, indirectly supported by Republicans who are afraid of seeming "racist" or "politically incorrect." They have perpetuated this "crisis" which they now find themselves dumbfounded by. How can you not expect extremism to grow and anger to not bubble over when in the name of ending racism and bringing about equality, you have marginalized and discriminated to try to accomplish this?
For awhile now we have watched as whites have become the target of racism. It seems the worst thing you can be today is a straight white male (and if you are Christian, even worse). We have taught a generation that it's OK to discriminate against and target white people as long as it's in the name of equality. While we have fought to become a society that Martin Luther King Jr once talked about, where people are "not judged by the color of their skin but by the content of their character," we have justified giving unfair advantages for race, sex and even sexual orientation. In sum, we have tried to solve racism with racism.
Now I've heard the argument many times about how these policies make up for years of discrimination and racism and are meant to level the playing field. Where in life can one "make up for the past?" Where does punishing young white men today for the sins of their forefathers bring about any real justice? To me it's an excuse for reverse discrimination. These short-sighted liberal politicians and activists, and Republicans who have either condoned or stayed silent, most who are pandering for votes and control of a demographic, have created a monster on both sides of the aisle.
The "alt-right" – also known as the KKK, Neo-Nazis, and other White Supremacist groups, have existed for a long time, but why now in modern society are we seeing an uptick in their membership and activism, especially after so many years supposedly combating racism? When you single out a young straight white male and tell him:
1.That he has the unfair advantage of "white privilege," even if he comes from limited economic means and an area of the country with limited opportunities;
2. That he can't have pride in his race or heritage because it's "racist" while he watches every other race, gender and sexual orientation march the streets celebrating pride;
3. That his college application or his job application is at the bottom of the pile, no matter his qualifications, because of "diversity programs;"
4. Tell him that he's somehow responsible for things like slavery and the state of this country before the civil rights movement, all because he's white, even though he never lived during those times, his ancestors never owned slaves or even lived in the south, and his family never promoted or allowed bigotry;
5. That it's okay for the media to go after Christianity, to try to remove it from public discourse regardless of its place in the foundation of America, but tell him that he can't say "Radical Islamic terrorist" without insulting the Muslim Faith.
Then after all that, add in something like the economic collapse where unemployment soars, making jobs more difficult for all, and even more so if you are at the "bottom of the pile." Would you be surprised to find that this young man would be pretty angry and frustrated with society and looking for away a way to lash out?
Liberal politicians and the leftist media have been the biggest recruiting tools for White Supremacist groups. Groups like the KKK have worked hard in recent years to re-brand themselves to appeal to the anger and frustration of many young white men in middle America. They play on their feelings of isolation, their experience of discrimination and offer them a way to rise up.
In my recent research on the issue, I visited the KKK website, in search for a simple mission statement. Instead I found pages of targeted messages to various groups such as Christians, Women, and the one that caught my eye "Young People." Many of the the issues I identified above are the exact targeted issues the KKK is using in order to recruit new members.
Think this isn't reality? We have seen it outside America's borders. We need to look no further than Western Europe, to countries like France and England, where Muslim communities have largely been "separate" from the rest of Society, which has brought about less opportunities and a feeling of isolation. With that has come extremism and the creation of easy targets in young men for groups like ISIS. We saw this take place with the UK born terrorist who targeted the Ariana Grande concert. This wasn't someone from the Middle East, or born in the Middle East, but someone recruited in the country he was born and raised in.
Now to the Far Left groups which include the so-called Anti-fascist organizations, anarchists and even Black Lives Matter. These groups have taken up the mantle of fighting racism with racism. They have used America's racial past and current controversial issues surrounding race, such as police involved shootings and police brutality, as a justification to target white people and cops in general, to riot, destroy property, assault people, even shooting police. The movement has become less about equality and more about an excuse for lawlessness, a way to use reverse discrimination and racism under a noble guise and a way to silence the speech and opinions of anyone they disagree with by branding just about anything as "hate speech."
Why has this been allowed to evolve to what it has? Ask the same ones in the media scratching their head at the violence this past weekend. In fact, if you want to find who laid the foundation for an altercation like we saw in Charlottesville, look at these same people, look at the politicians capitalizing on the tragedy to make public statements that sound good but offer no real solutions, not even a recognition of the real problem at hand, let alone even holding BOTH sides accountable. These forces combined have created a double standard in our society where the Far Left and their racist rhetoric and violent behavior is justified and excused, while the "Alt-Right" is condemned and attacked.
The message this double standard has sent has been devastating to society and even to the groups of people they think they are helping. The media and politicians from both sides of the aisle have created a set of racist standards. They have failed to see that giving an advantage based on race or gender is as bad as giving a disadvantage. And when you give one group an advantage, you are discriminating against another.
These people have also held the liberal left to very different standards on conduct, even compared to an average citizen. How about you who are reading this, grab some friends and go out into the street with signs that target a certain racial or religious group with expletives and stereotypes, smash in the windows of your local Starbucks, and set a random person's car on fire, all in the name of a good cause, and see how far you get. Will the media make excuses for you?
The media and our political leaders have created the monster that these far left groups have become. They have given them the victim-hood they crave, the excuses they need, and have failed to hold them accountable or responsible for their actions. Part of a civilized society is order and an equal set of standards for conduct, respect, responsibility and accountability, no matter what happened to a person in the past or what took place in history. Our leaders and the media have grossly failed at preserving this. They have given one side a free pass, even made their cause noble, while vilifying the violence and anger on the other side.
BOTH sides should never have been coddled, BOTH sides should have been condemned, BOTH sides should be held to the same accountability. The media and our leaders use the sins of America's past as justification for the Far Left's activities, the latest being the tearing down of historic Confederate monuments. They have helped to spread the false dialogues that these are racist symbols, instead of reminders of our past and where we came from as a Nation, a reminder of those who died in a brutal Civil War that tore this country apart, and whose ramifications can still be felt today in some parts of this country.
This history they pick and choose and use as an excuse to cause destruction and chaos, is a history they set to destroy. When they wipe out any memory of history they don't like, what will be the new excuse they use to justify their violence and chaos?
You can't rewrite history but you can make sure the history and the lessons learned are never forgotten. But these leftists, with the support of the media and politicians from both sides, are allowing history to be destroyed. We as a Nation are so divided, the term "Civil War" in modern terms has come up. But those too busy attacking straw men in the form of knocking down Confederate statues, and those who cheer them on, don't see they are leading us down a disastrous path. They have made noble those who are destroying property and tearing down historical monuments, many of whom know and understand little about the full history of what they say they are so against and so wounded by. Most have taken their information from a biased and liberal media who isn't about truth but about agenda.
It's hard not to feel that the point isn't about removing reminders of hate, or even ending racism, but a retaliation and a capitalizing on the opportunity to destroy. When they run out of statues, what will be next? What history will they chose to then rewrite and wipe out? Maybe instead they will come to the homes of those who don't agree with them, and maybe they can justify burning down their homes because the people who live there hold a view point that these activities can deem "hateful" by their own new definition.
It's time that we wake up America! It's time we right this course before we go down the path of no return. I make no excuses for the extremes on either side but it is not enough just to condemn them, we must understand how we got here. What we saw in Charlottesville isn't the worst and isn't the end. I fear much is ahead. The more our leaders and the media chose to play politics with this volatile situation, the more they refuse to recognize the disaster they have created, whether through good intentions or not, the more they refuse to call out both sides honestly and EQUALLY, no matter how unpopular or un-politically correct, the more they will sit there both shocked and appalled and left scratching their heads wondering how we got to where we are.
The answer isn't that difficult see. For politicians looking for the easiest solution or who put pandering for votes above what this county needs, will they have the political will and the guts to see the truth and act? Or will we just keep blaming Trump for what took decades to create? The future of our society hangs in the balance on that very question.
In his press conference Tuesday afternoon, President Trump proved again that he has the guts and the political will to say what no politician has before and addresses many of the points I've made in this piece. Let's only hope that this will start a recognition, dialogue and change that is so terribly needed.
Felicia Tweedy is a political activist who has worked on both sides of the aisle, and an entertainment industry professional.
COPYRIGHT 2017 ROCKIT NEWS