Hillary Makes Las Vegas Tragedy All About Her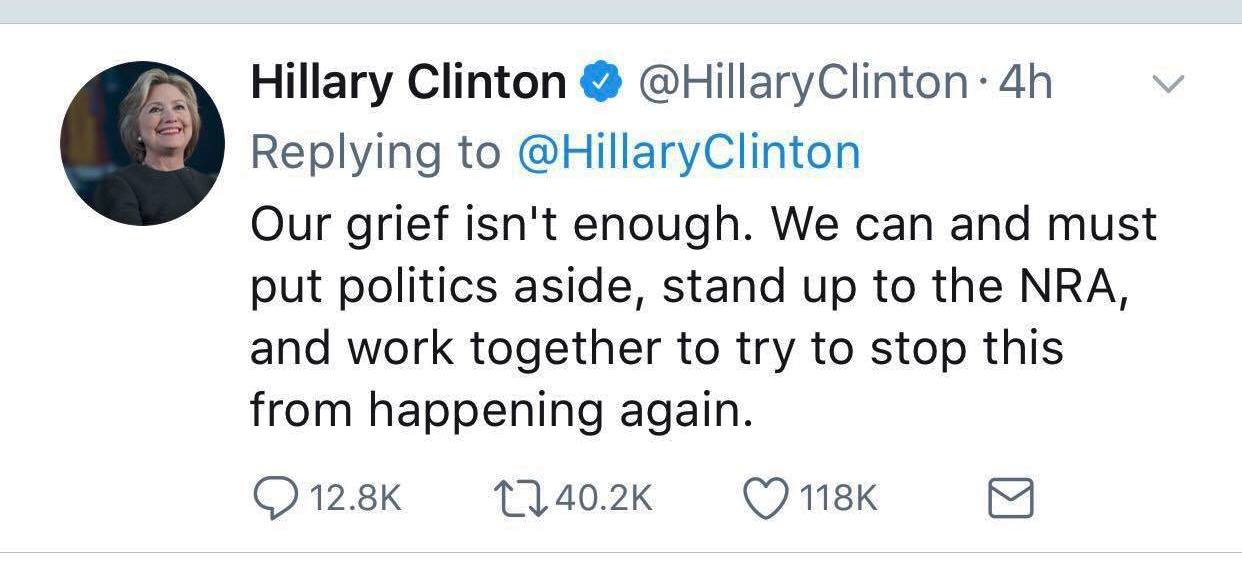 Anyone who is still wondering "What Happened" when it comes to Hillary Clinton's election loss can save themselves the $17.99 and the time to read her book. Look no further than her series of Tweets this morning about the Las Vegas Massacre and you can quickly see why this woman, a career politician and last year's heir apparent to the throne of the Presidency, lost the election to a political outsider.
In the wake of the tragedy in Las Vegas, and in any such tragedy, I usually will take a pause from partisan politics out of respect for the victims and because unity as a country in such a terrible time is much more important than the usual partisan bickering. Hillary's tweets this morning caused me to make an exception to that rule. In fact I am so outraged at her commentary that I'm writing this opinion piece to share my thoughts.
This morning Hillary unleashed 3 back to back tweets. Her first one was exactly as the tone it should have been – Showing support for the victims and their families and sharing outrage at this horrific tragedy.
"Las Vegas, we are grieving with you—the victims, those who lost loved ones, the responders, & all affected by this cold-blooded massacre."
If only she had stopped there.
But Hillary just can't help herself. As fellow Democrat Rahm Emanuel once said "never let a crisis go to waste", Hillary immediately pivots into a political diatribe about gun control and the NRA, tweets which not only show how divisive and political she is, as well as hypocritical, but also just how out of touch she truly is. She followed up her first tweet with the following:
"The crowd fled at the sound of gunshots. Imagine the deaths if the shooter had a silencer, which the NRA wants to make easier to get."
Preliminary numbers showing 59 people dead and over 500 injured weren't even a final confirmed count when Hillary takes the opportunity to jump on her soap box about a current gun control debate item involving a particular silencer. This is before we know anything about the shooter himself, what weapons he used or how he got them and what his motive was.
Beyond that, apparently Mrs. Clinton hasn't gone to many music festivals or concerts, cause if she had, she would know that the sound of a major concert or festival like that, esp in the middle of the Las Vegas Strip, was all the "silencer" the shooter needed. People didn't run because they heard gunshots, they ran once people were shot. Most that first heard the gun fire thought it was pyrotechnics or fireworks. It wasn't until seeing people bleeding from gun shots wounds and people falling on the ground injured, along with the sound, did it register concert goers what was going on and even then, some weren't sure.
Beyond that, maybe someone should ask Ms Hillary how more gun laws will help when there were already laws in place which outlawed most of the weapons authorities are saying the shooter used. Is Hillary actually saying that the problem is we need to make illegal weapons even more illegal and that will solve the problem?
While we don't have complete info on all the weapons used, we do know that what he did have was some form of automatic weapons, or modified weapons, which are illegal nationwide. So how is it the NRA's fault when they have said themselves that these laws don't prevent these kinds of tragedies? Just like Hillary can't take responsibility for her failed presidential campaign, this woman can't take responsibility for the failed policies she continues to advocate.
But wait, she goes on further – "Our grief isn't enough. We can and must put politics aside, stand up to the NRA, and work together to try to stop this from happening again."
Put politics aside? Maybe Hillary should learn to lead by example. She chastises people – primarily conservatives who stand up for their 2nd amendment rights given to them under the Constitution – as playing politics, while she sits there in her multi million dollar home with armed security outside, making a political issue out of it, that she can gain from, just hours after 59 innocent people are killed and more than 500 are injured. And she has the audacity to tell others to put "politics aside". Is this woman for real?
I've never been a fan of Hillary but since the election, her behavior has me wondering whether she's just gotten so extreme politically that she can't see her own hypocrisy or that she truly has had a mental break caused by her defeat at the hands of Donald Trump. Either way, it's obvious she still is in denial about why she lost and just how out of touch she is with the average American.
As someone who had friends in that crowd at that music festival, and whose friends have friends who are missing or injured, this tragedy hit very close to home for me, and has me even more disgusted that a political "leader" such as Hillary would makes such statements, and then in her own self righteous way, think she has the moral high ground for doing so.
Just imagine if Pres Trump had tweeted anything remotely like what she did today, or any top ranking Republican figure. The media would have been all over it, accusing said person of politicizing a tragedy, but if you profess the opinions of the liberal left who feel they have the moral high ground on issues like this, it's ok.
Add to that, that they don't have any real facts or evidence to show that these gun laws they keep talking about will make it any better. Instead we continue to see, criminals obtaining illegal weapons, and mass shooters like this as well, and the left sits there wondering why their laws aren't stopping criminals and people who aim to do harm. Maybe they should simply look up the word "criminal" and they would find the following – noun for "a person who has committed a crime", adjective for "related to crime", synonyms: unlawful, lawless, delinquent, felonious.
If by definition a criminal breaks the law, then why would any gun laws stop one from carrying out their crimes? The fact that this man got a hold of the illegal weapons as easily as he did tells us just how ineffective these laws really are in keeping such weapons out of the hands of the people we most want to stop.
At a time when many from both sides of the aisle are taking a pause from politics and focusing on unity, Hillary Clinton just can't help promoting herself, her ideology and her agenda. A for myself, I plan to go back and join those who care more about the unity of our country than capitalizing politically on tragedy as Ms. Hillary feels is acceptable. And that in itself tells you exactly "What Happened" last year and why this woman not only lost the 2016 election but isn't fit to lead in any capacity.
Felicia Tweedy is a political activist who has worked on both sides of the aisle, and an entertainment industry professional.
COPYRIGHT 2017 ROCKIT NEWS