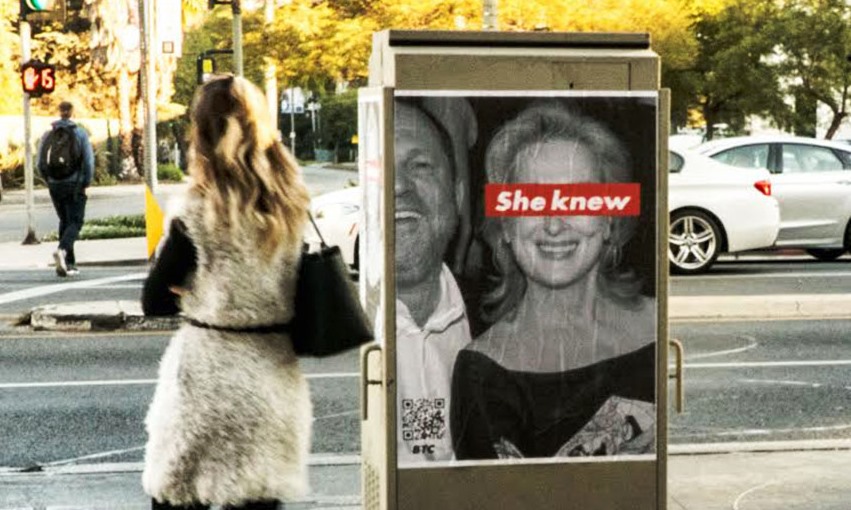 From the cover of Time magazine's "Person of the Year" issue, to our daily newspapers and cable news channels, the topic that has been dominating the headlines in 2017 has been the #MeToo movement. What seemingly began with the fall of Hollywood mogul Harvey Weinstein, there has been a domino effect that has extended throughout Hollywood and beyond, to politics, to journalism and more. We have seen big names such as Today Show host Matt Lauer and Minnesota Senator Al Franken fall from grace.
With how this movement has gained momentum, it has left many in the media afraid to even critique or criticize any part of the movement, lest be seen as sexist or "part of the problem." That in itself is dangerous for society and dangerous for the many women who are part of this #MeToo movement.
What exactly does #MeToo encompass? I have seen the gamut of #MeToo posts on social media that have ranged from something serious such as sexual assault or rape to someone being uncomfortable at a comment that was made to them in the office. That is a wide range of allegations and experiences, and all are not equal. If we place an inappropriate comment at the same level as sexual assault, do we demean the seriousness of one, while elevating another to a level not warranted? Where do we draw the line? Are we creating a society where everyone will walk on egg shells with the fear that something they say could be misconstrued and cost them their career?
As with any social movement, people want to be a part of it, even when what they are raising their hands for is something serious and most would never want to experience. I don't deny the fact that sexual assault and harassment are widespread, but is it really as widespread as social media is making it out to be? I'm sure every woman can think of a time where a comment was said or an off-color joke made them uncomfortable, but does that constitute saying "Me Too," along side someone who has been assaulted?
Social Media creates trends and the group mentality, the wanting to belong to the particular group or movement, can push people into digging into their past to come up with something that makes them a part of it all. Is that what we really want to be doing? Does that not drown out the seriousness of the experiences of many women? Whereas numbers can bring attention and show how widespread a problem is, is there a point where it's seen as so common that it loses its impact?
Too often in our society today, being a "victim" is the thing to be. It's been a way for many, for various issues and groups of people, to excuse certain behavior, to further a cause, to not take personal accountability, or to try to gain from it, financially or otherwise. There are real victims in society, of real crimes and real tragedies, and they get lost in the shuffle. In fact, I've found that many of the worst "victims" are usually not the first ones standing up to be noticed.
In this politically correct world we live in, where everyone seems to be thin skinned and easily offended, where the -isms, such as sexism and racism, are thrown around loosely, it seems as if everyone is a victim of something. Numbers can make people take notice but if we cry wolf too often, the real issues will eventually be ignored and the real victims will be discounted.
I can speak from my own social media and what I've seen. Women who I know have been victims of rape, sexual assault and harassment, surprisingly aren't posting #MeToo. Why is that?
I can actually answer that question myself, as I have my own personal experience with the issue at hand. Mine lies on the "serious" end of the spectrum, and I am one of those who hasn't yet posted #MeToo on my social media. Some may think it's because of my politics, but this issue has transcended political lines, especially for those personally affected.
I think for many of us, it's a topic too sensitive to post on Social Media with a vague #MeToo, right after a post about what we had for lunch that day. It's not about not speaking out, it's about the forum. It's about a concern whether everyone rushing to be #MeToo takes away from the severity of the experiences some of us have had and its impact on our lives.
I have great concerns about the unintended consequences of this movement. We are seeing men lose careers they built over decades, based on unproven allegations. What has happened to "due process"? What has happened to "innocent until proven guilty"? Companies are so afraid of a backlash from this movement, that men are being fired from positions immediately at the first mention of an allegation.
I've worked in both politics and entertainment – the two industries most under attack right now – so I understand how widespread the issue of sexual assault/harassment could be, but even with that being the case, does it mean that every woman that comes forward is telling the truth? Could there not be a chance that some of these allegations are coming from women who are seeking what they call their "15 minutes of fame," looking for a payout, furthering a political agenda, or acting in revenge?
It's easier now to come out with such allegations, where there seems to be new ones every day and companies are running scared, than it was a year or two ago where a woman risked a lot to speak out. I'm not saying we should go back to the latter, but there needs to be balance. I worry we are creating a society where anyone can accuse anyone of an offense, especially that of a sexual nature, and it's to be taken as the gospel truth, without any investigation or vetting. In that case, all of us should be worried that anyone from our past, with any grievance or vendetta, can rip our lives apart.
I have heard some very liberal women state that it's ok if innocent men get caught up in this #MeToo movement, that they are collateral damage for a greater cause. An example of this came from Teen Vogue columnist Emily Lindin who tweeted in November "Sorry. If some innocent men's reputations have to take a hit in the process of undoing the patriarchy, that is a price I am absolutely willing to pay." Well, sorry Emily, it's not a price I'm willing to pay. You cannot fight injustice with a different form of injustice. Truth should always be paramount.
I wonder if this situation was turned if some of these women would feel the same. It's a very real possibility that we could see a shift in this movement, where women are accused of such behavior as well. There are many women in power positions today, and while it may not be as common as with men, I can bet there are women out there in powerful positions who are guilty of similar abusive behavior. Will they held to the same standard that some women are calling for against men who are accused?
I ask women, and society in general, to take pause in the midst of this frenzy, and make sure that while we are attacking an issue that has long needed the spotlight, that we don't exchange one tragedy for another, one injustice for another. That we don't degrade the experiences of many through the barrage of social media. No one should lose their job and their livelihood over sheer allegations. Companies should allow investigations to play out before making knee jerk reactions for the sake of public opinion, of course unless the accused has admitted to the accusations. Due process doesn't discount allegations or demean the accuser, it's what our society and legal system is based on.
Women need to continue to speak out, long after the trend of the #MeToo movement has passed. It's a lot easier to stand up when you have large numbers but for real change to occur, it has to continue happening even with the spotlight is off the issue. There really needs to be a differentiation between allegations – I worry that those who have experienced some of the worst trauma, will have their experiences chalked up to the level of someone who was offended by an inappropriate comment. It doesn't mean that either one is ok or right, but there is a difference in the severity of issues and it's an important distinction that needs to be made or we run the risk of losing the seriousness society has placed on crimes like sexual assault or rape.
Finally, we as a society also have to make sure we don't become too sensitive or too guarded, where someone is afraid to compliment a colleague or make a joke because they may be accused of harassment. As much as I want the issues many women are facing to be addressed, I also don't want to love in a world where we all have to walk on eggshells in fear of accusations. Women, and men too, need to tackle these issues, not by being seen as victims, as some of the group mentality and social media trends tend to promote, but as true champions of a cause and champions of real and just change.
Felicia Tweedy is a political activist who has worked on both sides of the aisle, and an entertainment industry professional.
COPYRIGHT 2017 ROCKIT NEWS