Hey, About Those S***holes? Trump is Right, So Get Real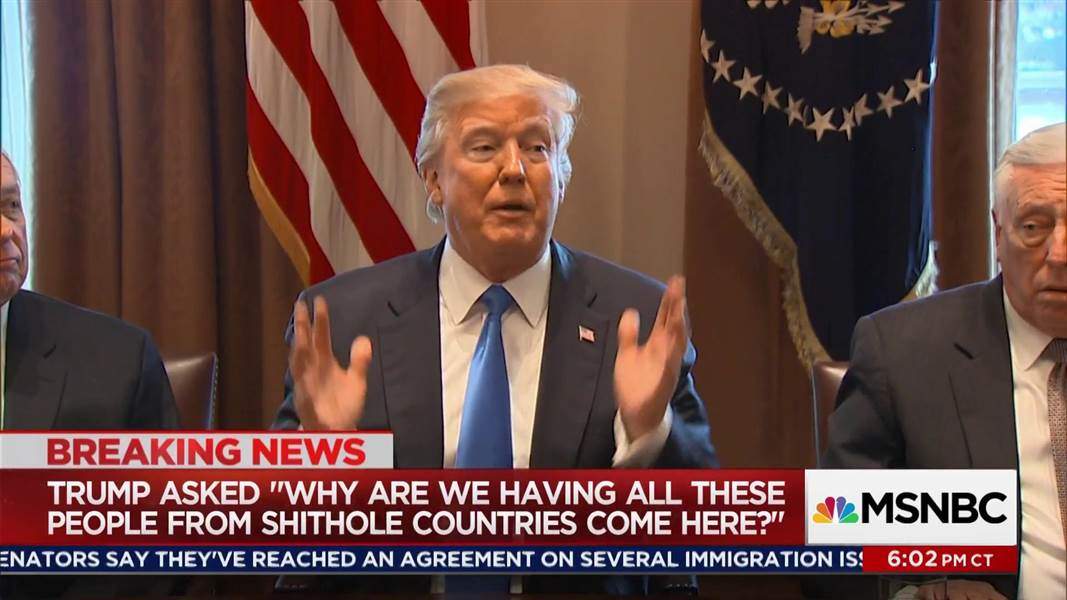 So President Trump allegedly calls basket-case countries s***holes? Racism, the left screamed! There were so many snowflakes melting I expected a flood.
Had President Trump used such a harsh term in an official speech, I could see the push-back or the argument of decorum. But this was said in a closed door meeting and was leaked in yet another attempt to attack the president.
If as a Nation we are worried about the President using a term like s***hole in a negotiation, and use it to blow up a major issue, we need to sit down with ourselves and get real. Leaders don't negotiate tough issues by being nice. At a time where we have North Korea (another s***hole) building up its nuclear arsenal, ISIS and other terrorist groups threatening the western world, and violence raging in our inner cities, we can't afford to pretend to be shocked and horrified by salty language.
I've used the term s***hole many times in my life, and not just to describe other countries. I've called areas of the United States by that term – Detroit would be one – where we see ruin, high crime, little economic opportunity, corruption and more. I've referred to Countries in Latin America and Africa as such, as well as some Eastern European (white!) and Middle East countries. Just ask yourself, would you rather have your honeymoon in Norway or in Haiti like the Clintons did?
President Trump was looking at certain countries being discussed in this meeting – he didn't single out Haiti off the top of his head, and whether you like it or not, Haiti is a s***hole, Honduras is a s***hole, El Salvador is a s***hole and no, Norway is not. It has nothing to do with racism, it has everything to do with looking at the facts. Norway is one of the richest country on earth. In fact the United Nations says Norway is "the best place to live."
We know why other nations rank towards the bottom. They have weak economies, sketchy rule of law, and deficient infrastructure and sanitation. If these liberals and members of the media think it's only racism, then why don't we ask them if they would mind being sent over to one of these countries that Pres Trump called a s***hole, and live for a couple of years. How many of these self righteous liberals would take up that offer? And if these countries are so great, why are people fleeing them in droves?
As a nation, we do have a right to examine and question who we allow in this country, and to do so honestly and bluntly. We as tax payers are paying for many of these immigrants when they come here, and many for years to come. The United States can't take in the World and we have a right to balance out the "tired and poor" coming into this Country with those who have skill sets and education to make themselves successful once in the United States.
According to the Center for Immigration Studies, the percentage of households headed by immigrants using welfare are as follows:
Central America and Mexico – 73%
The Caribbean – 51% Africa – 48%
East Asia – 32%
Europe – 26%
South Asia – 17%
Are these facts racist? Liberals will argue that they somehow are, but it doesn't change the facts. Our country is in a state where we are highly in debt, can't balance our budget, our roads and infrastructure is crumbling, and State governments are going bankrupt. How can we continue to take in people from other countries where a majority will end up on government aid?
This isn't an issue of racism, this is an issue of practicality and common sense. It is also an issue of survival and remaining the prosperous nation we are.
We also have a big problem if our President has to mind every word or name he uses in a private meeting, for worry that it will get leaked out to the press. How is that productive for our nation? As someone who has worked on both sides of the aisle and been a part of "closed door political meetings," I can tell you that real politics is not  nicey-nice like a public speech. Behind closed doors they get down and dirty. Yes, Democrats especially. I have been shocked by some of the things I have heard coming from supposedly tolerant, politically-correct liberals when the cameras were turned off.
What they do in public is all for show. Senator Dick Durbin (D-IL), who was the source of this flap, made a big public scene about how he was highly triggered by President Trump's alleged comments. Well maybe the Senator should put on a flannel onesie and go sip some cocoa in his safe space and leave real politics to people tough enough to handle it.
Felicia Tweedy is a political activist who has worked on both sides of the aisle, and an entertainment industry professional.
COPYRIGHT 2018 ROCKIT NEWS