Hillary Back In For 2020?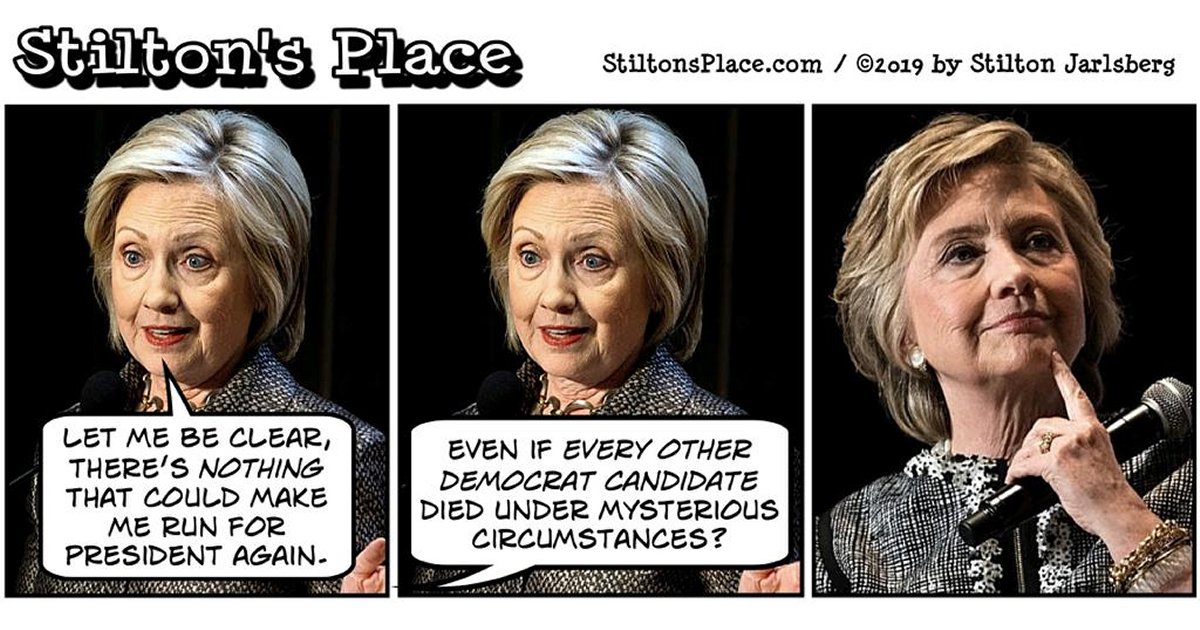 [Ed. note: The day after Hillary Clinton made headlines by saying she is not a contender for the 2020 Democratic nomination, sources close to Clintonworld say it is not true.
On Monday night, Hillary told local affiliate News12 Westchester "I'm not running," which sparked a media frenzy. But late Tuesday, New York Times reporter Maggie Haberman Tweeted that Ms. Clinton was surprised people took her definitive statement as indication that she might never be in the race.
"Spoke to someone close with Clinton in contact with her today," Haberman Tweeted. "They say she wasn't trying to be emphatic and close the door on running when she spoke to a local reporter yesterday, and that she was surprised by how definitively it played."
Clinton is allegedly waiting to see the soon to be released report from Special Counsel Robert Mueller on the Trump campaign's alleged collusion with Russia during the 2016 campaign before making up her mind.]
Stilton Jarlsberg writes: Hillary Clinton has officially declared that she is not running for President in 2020, but says will take an active role by working with the candidates in the crowded Democratic field. In much the same way, we believe, that John McClane took an active role working with the terrorists at Nakatomi Tower.
Mind you, we do believe that Hillary has no intention of "running." This is, after all, a woman who has to pay heavily-muscled men to carry her up and down stairs when not dragging her limp body into a waiting getaway van after a public appearance.
But not for a second do we believe she's given up her all-encompassing obsession with becoming President. Rather, we expect her to maintain an active public profile while all the other Dems batter each other on the stump, after which she'll step out on the blood-soaked battlefield and graciously accept the "draft Hillary" movement which someone with no traceable connection to the Clinton Foundation has thoughtfully and generously funded.
Stilton Jarlsberg is the artistic genius behind Stilton's Place, Hope n' Change Cartoons and Johnny Optimism. This article originally appeared in Stilton's Place and is reprinted with permission of the artist. 
COPYRIGHT © 2019 BY STILTON JARLSBERG