It's Not Just An Admissions Scam, The Problem Is College, Period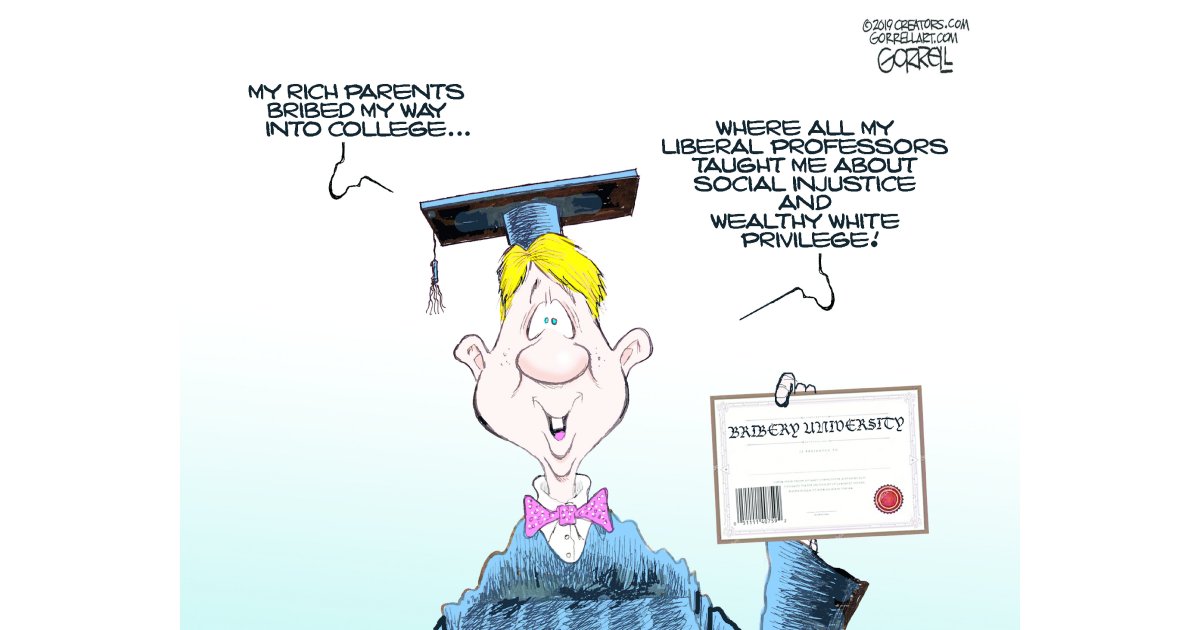 The biggest college scandal in our history!" exclaims a news reader, referring to the indictment of William Singer, who organized a scheme so the wealthy could bypass the college admissions process and get their children into prestigious schools through a combination of fraud, deceit, and bribery.
The scandal might not have received the attention it generated had it not been for actresses Lori Loughlin and Felicity Huffman getting caught in the FBI's net. If there are celebrities involved, the story must be important.
As offensive as this scandal is, it is nowhere near the biggest college scandal in our history. Our colleges and universities have long been mired in ongoing scandals, but they are so common that we hardly consider them newsworthy.
College tuition and textbook costs have climbed faster than any other component of the economy. At the same time, the value of a college degree in fields of questionable economic utility have correspondingly diminished. This has left many dropouts as well as graduates with large debt obligations and no real means to repay them.
Some seventy percent of college graduates carry student debt, which now amounts to over a trillion and a half dollars.
Part of this is the unintended consequence of easily available government-backed loan programs, and the propagation of the myth that a college degree translates into much higher income over a lifetime. Remove the scientific and engineering fields from the equation, and the myth crumbles as fast as the interest payments on student debt rise. About 44% of college graduates end up in jobs that do not require a college education. Many employers require a college degree where a good high school education would more than suffice.
Colleges raised tuition knowing that students could easily borrow money. What started as a benign program ended up like many government programs causing disastrous effects not only for individuals but also for the entire economy.
But there is another problem. Before we expanded the population base that colleges serve, it was possible for a student to go through college and acquire some fundamental and marketable skills in writing, public speaking, economics, and mathematics. Those skills once set the college graduate apart from the larger population even if the student's major did not have a direct economic translation.
Businesses did not always want graduates with business degrees, but they did want graduates who could write a coherent paragraph, speak extemporaneously, and understand how to do research and interpret qualitative and quantitative data.
The dirty secret of higher education is that the ability to acquire those skills requires both above average intelligence and motivation. Those joint attributes are probably present in no more than fifteen percent of the population. Yet, colleges and universities are recruiting from about 65% of high school graduates and telling them they can be successful as college students. More than half will not have a degree after six years, but they will have student debt.
Many colleges and universities lower standards to accommodate students of lower ability and motivation and, despite this, many drop out because the experience has no attraction for them.
This does not apply to all institutions. Elite institutions and competitive departments in science, technology, engineering and mathematics, even at otherwise non-elite schools, can continue to recruit top students, who will benefit from the experience. Dedicated and talented liberal arts students do acquire intellectual skills that will serve them in their careers.
But those liberal arts students are the exceptions. The so-called "cake" majors absorb the intellectually challenged and motivationally limited students. The role of these departments is to create an environment where these students will feel successful and be pushed through toward a degree. Nonetheless, except for elite schools, the dropout rates reveal the scam behind the system.
There is little that is secret about this. During finals, administrators are known to openly tell faculty, sometimes in writing, to remember the institution's laudable commitment to retention and diversity. You do not need a doctorate to comprehend the meaning of such messages.
Such departments are also sandboxes for playing at social justice and indoctrinating students in leftist ideology. They are forums for telling students what to think, not teaching them how to think. From the administrative perch, they are safety valves for students to act out, demonstrate, shut down speakers, and otherwise make noise while the real work of the university continues unimpeded.
In some institutions, there is even a significant geographic distance between the engineering, science, and technical colleges and the rest of the campus.
Real students in demanding programs have neither the time nor the energy to engage in demonstrations. Finding a computer science student at a campus demonstration is as likely as finding a pro-life speaker on a women's studies panel.
Part of the campus deception is to encourage minorities to believe that a college degree is a passport to social mobility. It is if you are qualified and accepted in a program that has some relationship to the demands of the economy. But a degree in "minority" studies, where you learn how to be a more engaged minority, is only slightly less useful than a degree in most of the social sciences.
Entire departments and graduate programs exist to recruit a captive audience of students who largely will receive no intellectual benefit from the experience, but they will pay tuition and subsequently carry the burden of a student loan. More important, when the cultural auditors descend from Washington to evaluate the institution's progress on "diversity," these departments are the places to showcase both "minority" admissions and "minority" faculty recruitment.
Of course, nearly everyone in academia has known for decades that if some are underrepresented, there are others who are overrepresented and must move to the sidelines. The lawsuit by Asian students against Harvard is decades overdue, and one hopes that white students will continue to launch similar suits.
The problems confronting our colleges and universities are far greater than a single scandal. Higher education needs reform, starting with the imposition of standards, the removal of so-called "studies" departments, a commitment to open inquiry, protections of free speech from thugs who think the heckler's veto is enshrined in the Constitution, and an end to admissions and hiring by ascription.
When that happens, maybe, it will be worth bribing somebody to accept your intellectually challenged and unmotivated children. But in the current state of things, the efforts by William Silver and his clients was probably an unnecessary waste of time, money, and legal risk, without any likelihood of securing the payoff for which they erroneously believe a college degree produces.
Abraham H. Miller is an emeritus professor of political science, University of Cincinnati, and a distinguished fellow with the Hyam Salomon Center for American Jewish Thought. This article originally appeared in The American Spectator and is reprinted with permission of the author.
COPYRIGHT 2019 SPECTATOR.ORG