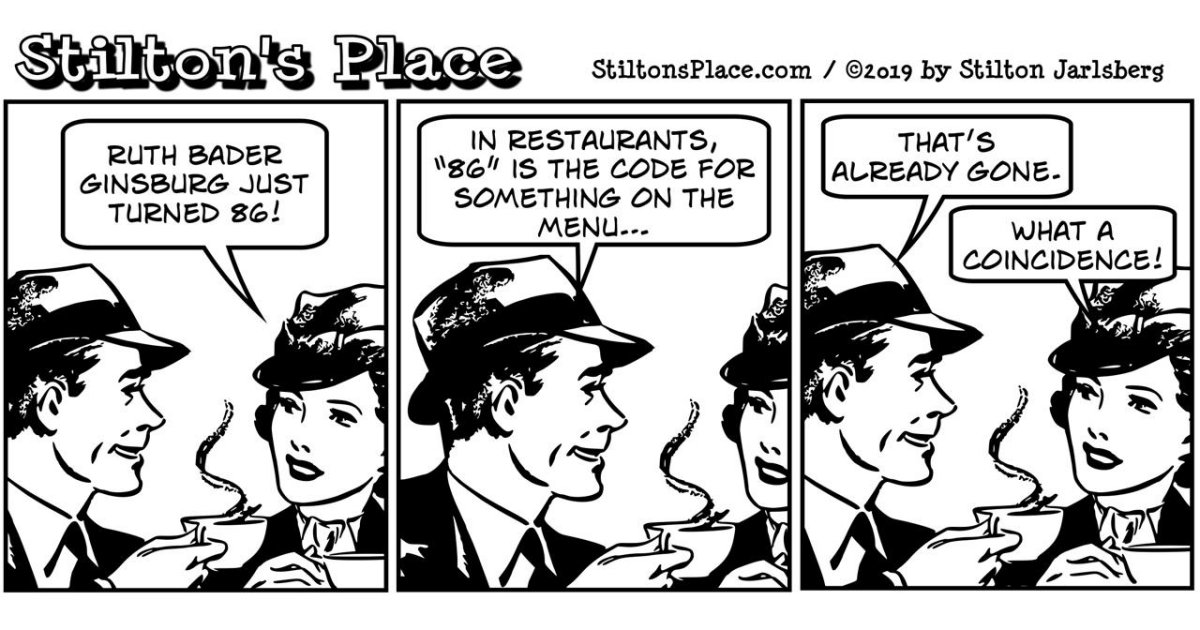 Okay, we absolutely, genuinely wish no ill on Supreme Court Justice Ruth Bader Ginsburg and hope that she's doing well…but we do wish that her handlers could give us some concrete proof that she's still got her marbles. And a pulse.
Cynics that we are, we didn't find ourselves entirely reassured by a recent article which informed us that Ginsburg had just celebrated her 86th birthday and that the perky pixie of jurisprudence was "all smiles" as she cavorted around town. Especially since this is the photo they used to prove her vim, vigor, and vitality…
Wow, she looks great! Unless that's, oh, literally anyone else in the entire world who wears glasses. Or perhaps a small child holding a Ginsburg balloon. Or Ruth being carried to a waiting hearse…we have no freaking idea.
For that matter, we don't even really know if this is actually a photo or a painting by someone trying to rip off the impressionistic "colored dots" style of Georges Seurat.
In any event, we wish Justice Ginsburg a "happy birthday" and hope that she gets well – and gets retired – as soon as possible.
[Ed. Note: And by the way, Samuel Adams brewery is naming its new Belgian Brut IPA in honor of Justice Ginsburg. The brew, called "When There Are Nine," evokes RBG's answer to the question what would constitute enough women on the Supreme Court. So it might be time to add Sam Adams to the boycott list alongside Gillette for shamelessly pandering to leftist political causes.]
Stilton Jarlsberg is the artistic genius behind Stilton's Place, Hope n' Change Cartoons and Johnny Optimism. This article originally appeared in Stilton's Place and is reprinted with permission of the artist. 
COPYRIGHT © 2019 BY STILTON JARLSBERG