Time to Ground the Blue Angels? A Navy Flyer Responds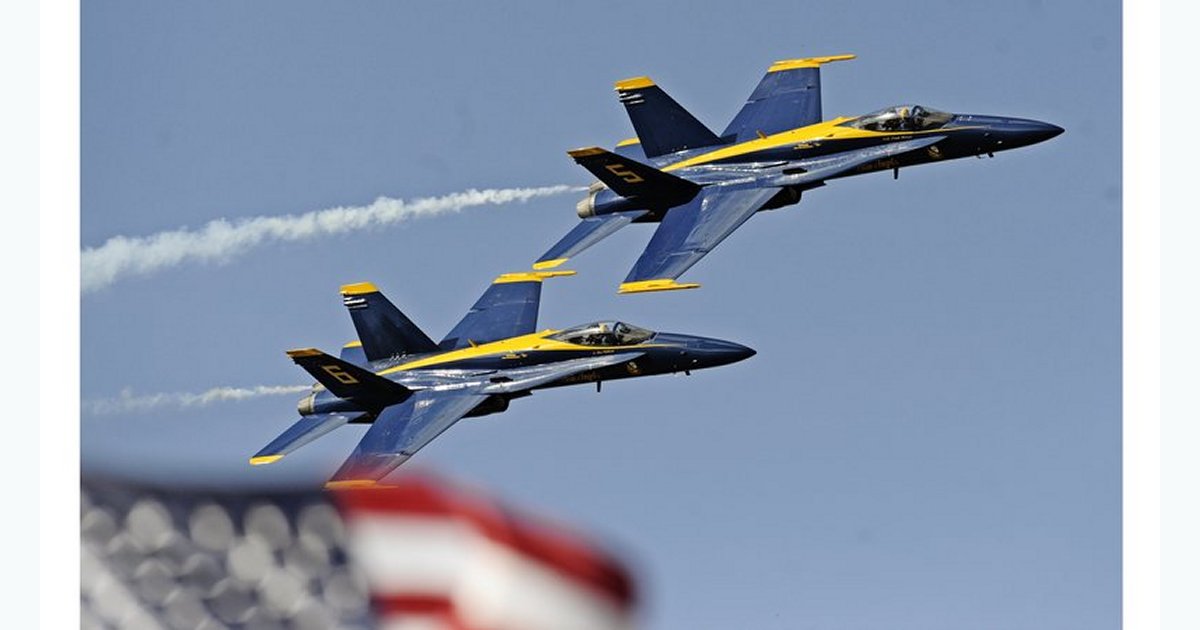 The Seattle Times published an opinion piece entitled Time to Retire the Blue Angels, which argued that the U.S. Navy demonstration team should not fly at Seattle's annual Seafair exposition. The author, Patrick Pilcher, wrote that he found the display "in poor taste," that the air show was a waste of money and a "display of military muscle-flexing that seems a bit outdated." Pilcher also believes that flying the jets is insensitive, since they "can be a reminder of the terror of death raining from the sky in the form of cluster bombs or other weapons" for "many recent immigrants from war-torn countries."
Commander Bill Paisley, USN (ret.), a former F-14 Tomcat RIO who flew with Fighter Squadron 14, the World Famous Tophatters, says in response:
This all sounds familiar. Back in 2005 the San Francisco Board of Supervisors quashed an initiative to dock the retired battleship IOWA on the waterfront at Hunter's Point, stating that the IOWA was "… a symbol of war and of military bias against gays." The incredible history of the Bay area's contribution to the national defense of our nation, sending hundreds of thousands if not millions of soldiers, sailors, and Marines off to war under the Golden Gate Bridge over the last century, was not enough of a legacy to honor those service men and women with one of the most iconic and quite frankly beautiful ships we've ever built.
Those self-same supervisors later tried to ban the Blue Angels from performing their annual flight demonstration during the San Francisco Fleet Week celebrations, using much of the same language we see in this article. Thankfully their effort to reject honors for our military failed, and the Blues still perform their show out in the waters between the bridges and Alcatraz.
The author of the Seattle Times article fails in a huge way to recognize what these flight demonstrations do for the nation. Not only the Blue Angels, but the USAF Thunderbirds, Canada's Snowbirds, and numerous other flight demonstration squadrons and organizations show the public what their tax dollars are producing. In a time of cynicism and waste, the professionalism, training, and dedication of these men and women are, as the saying goes, some if the best this country has to offer to the world. The visits to schools, hospitals, veterans groups and organizations the pilots and maintainers of the Blue Angels perform at nearly every air show belies the waste this author claims exists. And since he wants the Navy to engage in community service, well, that's exactly what the Blue Angels do.
Last point. We've all seen the meme circulating around that states, in essence, if conservatives don't like something, they generally don't partake in it. But if liberals don't like something, they work to deny it to everyone in America. Classic case here.
The Blue Angels entertain over 11 million spectators every year and are universally loved and admired by practically every single one of those viewers — other than the San Francisco Board of Supervisors and this dolt in Seattle. Keep flying, Blue Angels. You carry the legacy, honor, and tradition of Naval Aviation as no one else can.
Bill "Pinch" Paisley is a retired Navy aviator and all around great American.