Li'l Kim Throws a General to the Piranha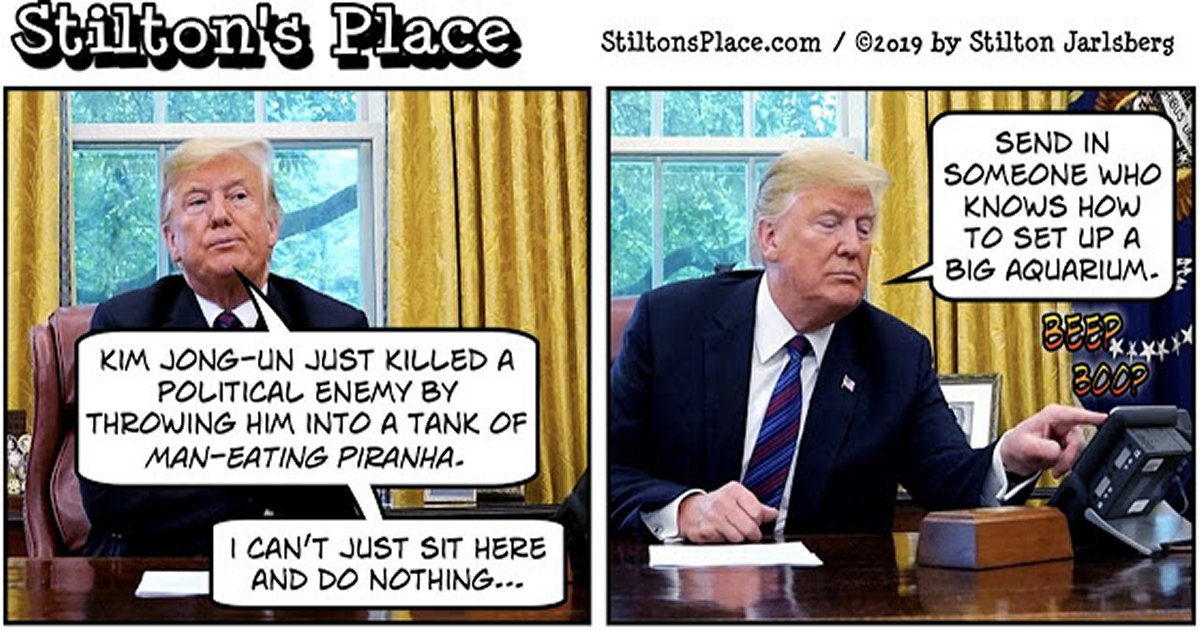 Recently we've seen a lot of ugliness and craziness in our political scene, but every now and then it's good to get a little perspective and realize that things could be even more jaw-dropping and, dare we say, entertaining. We've been brought to this realization after learning that North Korea's Kim "Poppin' Fresh" Jong-un recently executed a general who was suspected of disloyalty by having him thrown in a giant fish tank which was filled with several hundred razor-toothed piranha.
Piranha in their native Brazilian waters are well known to be capable of stripping an entire cow in under five minutes. Mind you, we're not sure who would want to watch a cow strip, but we're guessing it's the same crowd who still pays to see Stormy Daniels' act.
Kim has executed so many political opponents, advisors, military figures, and family members that he's developed an enthusiasm for staging the deaths in highly theatrical ways. The piranha tank was inspired by the James Bond film "You Only Live Twice," and the mischievous porkpie potentate has also offed those who disappoint him using an anti-tank gun, tigers, beheadings, and flame throwers. We don't know if he's discovered the "Saw" movie franchise yet, but when he does it would be a really good idea to not be in North Korea. Especially if you can be linked to that "porkpie" comment.
But despite today's playful cartoon, we wouldn't actually want President Trump to be thinning the ranks of those involved in an attempted coup in such colorful and highly kinetic ways. Although, since he's already being called a Nazi, the Antichrist, and worse ("Capitalist!") it wouldn't hurt his reputation much…and might make for a darn good reality show in the vein of "The Apprentice."
It would, at the very least, be one heck of a reality check for those in Washington.
Stilton Jarlsberg is the artistic genius behind Stilton's Place, Hope n' Change Cartoons and Johnny Optimism. This article originally appeared in Stilton's Place and is reprinted with permission of the artist. 
COPYRIGHT © 2019 BY STILTON JARLSBERG