Media Freaks Out Over Trump Foreign Oppo Comment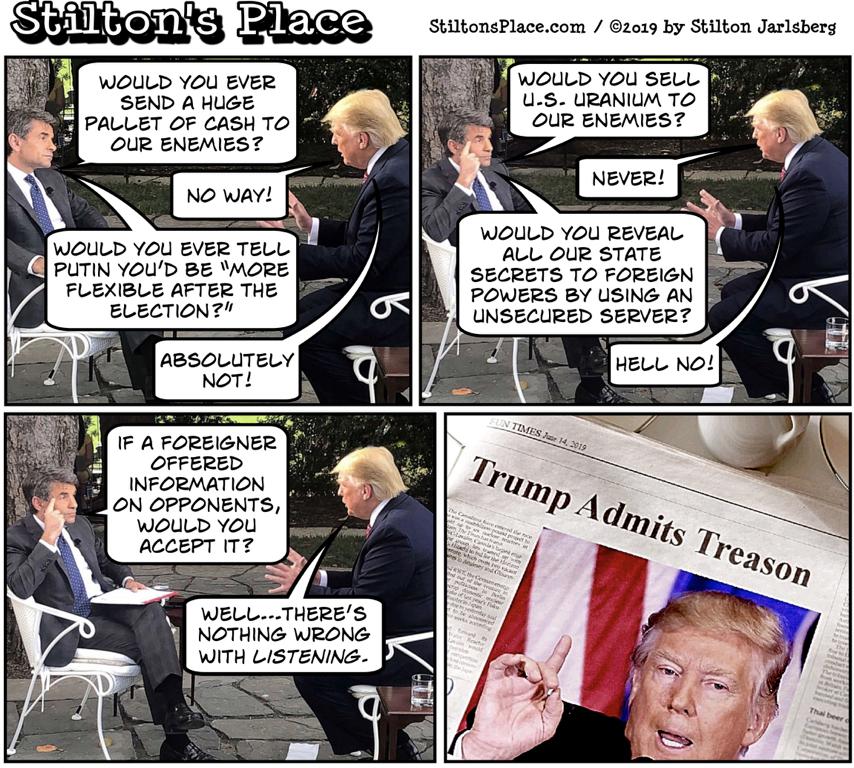 Political leftists dropped to the ground yesterday while experiencing eye-bugging, spit-foaming, limb-wrenching paroxysms of pure joy. This was not because they had been drinking from a mini-bar in the Dominican Republic (unfortunately), but rather because they thought that Donald Trump had finally been caught admitting that he's a collusion-loving, election-stealing traitor beholden to foreign powers.
As always, they couldn't possibly have gotten the story more wrong, but that didn't stop all of the usual Fake News outlets from reporting a non-event as if it were the crime of the century (typical headline: "Every Member of Team Trump Now Enabling Treason").
For those with a taste for actual facts, in an interview with ABC News correspondent George Stuffanappleupyourass, Trump was asked hypothetically if his 2020 campaign team would accept information from foreigners about opponents, or call the FBI. Trump answered, "I think you do both. There's nothing wrong with listening. If somebody called from a country, Norway, with information, I think I'd want to hear it. If I thought there was something wrong, I'd go maybe to the FBI."
All of which is entirely ethical, appropriate, and standard operating procedure by every candidate in every election. Which is why we found it hard to believe when former (and probably current) Clinton hatchet man Streptococcolous feigned wide-eyed ignorance regarding the very concept of opposition research.
Trump has, of course, complained about the way the Fake News media is twisting his words. In turn, they will surely accuse him of being anti-semantic.
Stilton Jarlsberg is the artistic genius behind Stilton's Place, Hope n' Change Cartoons and Johnny Optimism. This article originally appeared in Stilton's Place and is reprinted with permission of the artist. 
COPYRIGHT © 2019 BY STILTON JARLSBERG